Hunte, Everest: Romania takes a slice of 8% from the CEE services ratio

The share of services offered by CEE (dubbed by Everest "nearshore Europe") in the outsourced services segment is "definitely increasing" says Rupert Hunte, client director, Everest Group.

With a global sourcing market size expected to reach 160-165 billion USD this year, up 9% over 2013 levels, more investors more to the CEE region, leaving riskier areas. Today Romania takes 8% of the region's IT and BPO market, less than Poland (27% share), Hungary, Ukraine, Slovakia and Czech Republic (all have 10-11% shares) and Ireland (14%).

But while in 2011-2013 period investors setting up new shops preferred Poland (27%), Ireland (25%) and Romania was getting 16% of that interest, now Poland has dropped its growth rate to 13%, Ireland to 20% and Romania kept the same growth pace of 16% in 2014-2015.
Also, as Bucharest, Cluj and Timisoara activities saturate, investors move towards Iasi and Bacau, according to the Everest survey consulted by Outsourcing Today.

The share of nearshore Europe in global services delivery is increasing from 8% in 2013 to 10% in 2014, while Asia Pacific (APAC) dropped from 80% to 74% during the same period, in terms of headcount and full-time equivalent positions (FTEs).

"Europe has taken Asia for the first time in new center set-ups and expansion, with the investors preferring nearshore Europe in quite significant numbers, of 42% in the first half of 2015,"Hunte adds.

Recent activities in Europe focused on engineering services and R&D, analytics and cloud services. Players have set up centers in both tier 1 and tier 2 cities of CEE, the Everest study reveals.

In comparison to the 42% preferences for CEE, investors also concentrate on APAC (40%) and less in Latin America, which saw a decrease to 14% from the previous half (H2, 2014) of 27% - demand ratio that unsurprisingly moved to CEE's account.

"A significant demand comes from the investors moving from Northern Africa – from countries such as Morocco, Algeria and even Egypt," Hunte said.
Many investors move to CEE countries, and companies tend to simplify and to reduce costs, says Hunte.

Everything is moving towards more simple ways of doing business rather than making it compact, from sophistication point of view. A lot of companies look to add value to their services rather than reducing costs, and Romania fits in this scenario, says Hunte.

"The recent study in banking and financial services in CEE reveals out of the 20 respondents, all consider that cost reduction is crucial, however, the flexibility, understanding the business aspects and what they need to do has a major impact in taking decision," says Hunte.

"Also, standardization and harmonizing what they have to what they want and the influences the digitization and automation are having in the banking and financial sector are crucial, also in Romania," says Hunte, explaining that clients in this field form Romania and CEE would rather look at that problems addressed when choosing a BPS (business process services) provider.

"However, besides the banking and financial sector, there are also investors in other areas looking significantly towards the region," says Hunte.


---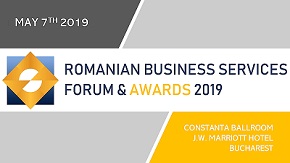 » Huawei opens a centre on cyber securit...
» ROMANIAN OUTSOURCING AWARDS FOR EXCELL...
» Romania ranks above EU average in gend...
» Bucharest, in the top of cities in Eur...
» Berg Software Romania: Reasons to outs...
» Meet the experts who will decide the w...
» Bogdan Pelinescu, president of ABSL: A...
» KPMG launches an application enabling ...
» ABSL GALA AWARDS celebrated its winner...
» Oracle reaches 4,200 employees and pla...

Colin C. Lovering: Meet the speakers at Romanian Business Services Forum & Awards 2019, on May 7

Colin C. Lovering has been living and working in Romania since 2009 when he arrived to offer consultancy and advice to organisations looking for growth and profitability and founded Achieve International.
Read Full article »
Antoniu Panait: Meet the speakers at Romanian Business Services Forum & Awards 2019, on May 7

Managing Director for VASTINT Romania since 2009, Antoniu Panait has an executive experience of more than 10 years, mainly in real estate.
Read Full article »
Andrei Voica: Meet the speakers at Romanian Business Services Forum & Awards 2019, on May 7

Andrei Voica, Director Project Management and Workplace Consultancy, Colliers International. Truly passionate about his work and always eager to add value to each project.
Read Full article »
Romulus Caralicea: Meet the speakers at Romanian Business Services Forum & Awards 2019, on May 7

Romulus is Wipro's Information Security, Risk & Compliance Lead for Europe. In his role he is managing internal audits and compliance activities for all clients and internal functions based on the corporate ISO
Read Full article »
George Didoiu: Meet the moderator of Romanian Business Services Forum 2019 CEO LEADERS DEBATE, on May 7

In his 15 years of real estate, George Didoiu advised on the relocation of top IT&C, finance-banking and consultancy companies, which total over 10,000 employees.
Read Full article »