Veritas gets ready to expand its Romanian operations

Veritas, the data management unit of Symantec recently bought by Carlyle Group, intends to expand its operations and team in Romania, says Vasile Aniculaesei, Territory Manager of the company.

Veritas saw an opportunity to expand its regional telesales center in Bucharest as local clients and even some local rival IT companies use more and more their solutions, banking and energy being some of the main revenue driving domains.

"We plan to expand our team, our local revenue reaches a few million euro each year. Most fears that we have had were linked to finding the right rare language speakers for our help desk center in Bucharest, especially for Greek language servicing. We were surprised to see that the first consultant we hired was a Greek speaker, and the second one, a Serbian speaker," Aniculaesei tells Outsourcing Today.

Symantec Corp. recently announced that it has entered into a definitive agreement to sell its information management business, known as Veritas, to an investor group led by The Carlyle Group together with GIC, Singapore's sovereign wealth fund, and other expected co-investors for $8 billion in cash.

The transaction is expected to close by January 1, 2016 in all the countries where the company operates. Veritas solutions are available to the Romanian market since early 2000 and, starting next year, Veritas solutions will continue to be represented and promoted in the market by a dedicated team, through its network of partners.

"Stakeholders are committed to invest in the development of the Veritas business in Romania and at regional level", say company officials in a statement.

The volume of data is increasing at incredible rates and is spreading across servers, clouds and hypervisors around the world. Unchecked data growth is an expensive burden in the business environment and a potential security risk waiting to happen. Veritas products enable organizations to understand their own information and recognize valuable information enabling them to achieve their objectives more quickly and efficiently.

In Romania, there is great opportunity for growth in the areas addressed by the company's solutions portfolio, due to the fact that Veritas is providing new information management and governance solutions designed to help Romanian customers capitalize on the power of information across on-premises and cloud platforms.

"The Romanian market presents a significant opportunity for growth in the areas addressed by Veritas solutions portfolio. We are currently offering locally, the entire existing range of Veritas software products for the protection, governance and management of information of Romanian companies and starting this fall we will also introduce products from the company's portfolio of dedicated backup appliances," said Vasile Aniculaesei.

Veritas provides its solutions to 86% of the top Fortune 500 companies. In Romania, Veritas solutions will give the organizations the ability to recognize valuable information, protect it and keep it available for continuing business use.

In Romania and in the region, Veritas solutions presence in the market will be supported through active investments in sales and technical resources, as well as a regional telesales center, located in Bucharest. The company's reseller channel comprises more than 200 active partners, including national system integrators, specialized partners, global alliance and regional partners.
Carlyle Group LP agreed to buy Symantec Corp.'s Veritas data-storage unit for $8 billion in the biggest U.S. leveraged buyout this year, according to Bloomberg.

In a year when private equity dealmakers including Carlyle's Bill Conway have lamented high prices for companies, the transaction is the biggest U.S. leveraged buyout (LBO) announced in 2015, surpassing the $5.3 billion LBO of software company Informatica Corp. by Permira and the Canada Pension Plan Investment Board, according to data compiled by Bloomberg.

Bill Coleman, the founder of software company BEA Systems Inc., will become Veritas's chief executive officer, the companies said. Bill Krause, a Carlyle operating executive who previously was president and CEO of 3Com, will be chairman.

The Veritas sale will provide cash for Symantec, which has seen its dominance of the cyber-security business eroded as hackers have found ways to thwart its key security product, antivirus software. Symantec needs the cash to fund acquisitions and build costly security services such as incident response, Daniel Ives, an analyst at FBR Capital Markets & Co. in New York, said in an interview.

A sale of Veritas, bought in 2005 for more than $13 billion, is symbolic of Symantec's refocusing on the security market as it tries to lessen its dependence on antivirus. As part of the effort, Symantec earlier this year said it was hiring 65 engineers and data scientists from Boeing Co.'s Narus security division, which makes network-monitoring technologies used by the U.S. government.

Carlyle manages $193 billion in private equity, real estate, credit and hedge fund assets. The firm said it's invested $18 billion of equity in 243 telecom, media and tech companies such as SS&C Technologies Holdings Inc., Dealogic and Syniverse Holdings Inc.


---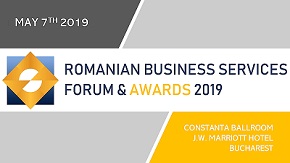 » Raiffeisen Bank Romania outsources onl...
» Horváth & Partners launches Steering ...
» JLL: Total office space in Bucharest t...
» Colliers International takes over the ...
» Oracle results pushed down by a strong...
» SSC in Romania. Who takes the lion's s...
» Survey: Romanians switch to a lower-pa...
» Genpact, Luxoft and Oracle, top lessee...
» Romanian employers report the stronges...
» Eucom: Nine out of ten corporate Roman...

My HR Lab: Research of suitable candidates and giving feedback to rejected ones, the biggest challenge in HR

During June 2019, My HR Lab company run an online (social media platforms) survey "Challenges of the recruitment process" which enrolled over 100 professionals working in HR and recruitment in Romania.
Read Full article »
The local market needs more added-value and complex projects to be developed by the companies

The statement has been uttered within this year's Romanian Outsourcing and Shared Services Summit by Catalina Dodu, Country Manager at Atos, pointing to the local enablers that could enhance the innovation and
Read Full article »
The office market at a glance: The round for tenants is on

Data provided by CBRE show that the office spaces segment will continue to grow rapidly in 2019, and 15 new projects covering 304.000 sqm will be delivered. According to the real estate consultancy agency, curr
Read Full article »
People Empowering Business Forum 2019 to take place on October, 30 at Bucharest

Latest trends like demographic upheaval, globalization, digital technology, and changing social values and worker expectations, are disrupting business models and radically changing the workplace. These are req
Read Full article »
Addressing the mantra of cyber-security: Confidentiality, integrity and availability

The fast advancement of technology in all the aspects of everyday life, either personal or professional, and the emerging of AI (Artificial Intelligence) and ML (Machine Learning), not to mention cloud technolo
Read Full article »