UBB and IT Cluster Cluj brought 450 students to 94 internships

About 450 students from Babes-Bolyai University (UBB) in Cluj-Napoca have benefitted from internships lasting three weeks in 94 organizations within the POSDRU EU program "Increasing employability through successful practice (PRACT- IT)"conducted by the University in partnership with Cluj IT Cluster, one of the most important IT clusters nationwide.

The project was initiated last summer and had a total value of more than 490,000 euros.

The Pract IT program addressed to freshmen and sophomore students (in 1st and 2nd year at UBB), within specializations: Informatics (188 students), Economic Informatics (87) Accounting and management (77), Marketing (29), Mathematics and Informatics (24), International Business and Economics (21), Statistics and Economic Forecasting (16) and General Economics (8).

The objective of the internship was to improve the competencies and professional skills of students in order to increase their ability to successfully fit to sustainable employment.

The organizations where students have held internships are most of them members of the IT Cluster. These include: Accesa IT Consulting, Altom Consulting, Alfa Software, ArtSoft Consult, ARXIA, Cloud Troopers, FORTECH, Imprezzio Global, ISDC, LightSoft, NetBrinel, OptimaGroup, PitechApps, Recognos and TecknoWorks.

Calayst organizations also participated to the project, such as ARIES and Cluj Hub or member universities, like the University of Medicine and Pharmacy "Iuliu Hatieganu". Some partner organizations outside the cluster include: BRD Regional Center Cluj, Banca Transilvania, Steelcase Romania and Yonder Romania.

"We initiated this project in a desire to meet a real need of the labor market in Cluj. IT industry in our city needs people skilled in the domain, young people, eager to assert professionally. We wanted to create a better understanding among students of career opportunities that exist in our industry and at the same time to build a bridge between those who want to start on this path and potential employers. Our program, I believe, was a success and we wish, together with the Faculty of Mathematics and Informatics of UBB, to continue it as soon as possible, "said Andrei Kelemen, executive director, Cluj IT Cluster.

The project enrolled 573 students, of which 450 were selected to participate in all activities through an online matchmaking portal through which students submitted resumes and letters of intent to partner organizations. The latter presented their offer on-site practice all concerned.

The grant awarded to each student involved in the project was worth about 1,144 lei, of which 1,044 lei were offered by UBB and 100 lei by Cluj IT Cluster.


---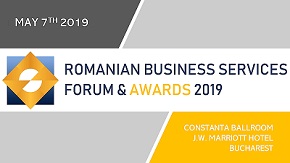 » Raiffeisen Bank Romania outsources onl...
» Horváth & Partners launches Steering ...
» JLL: Total office space in Bucharest t...
» Genpact, Luxoft and Oracle, top lessee...
» SSC in Romania. Who takes the lion's s...
» Oracle results pushed down by a strong...
» World-class HR organizations now spend...
» Romanian employers report the stronges...
» ROMANIAN OUTSOURCING AWARDS FOR EXCELL...
» Eucom: Nine out of ten corporate Roman...

My HR Lab: Research of suitable candidates and giving feedback to rejected ones, the biggest challenge in HR

During June 2019, My HR Lab company run an online (social media platforms) survey "Challenges of the recruitment process" which enrolled over 100 professionals working in HR and recruitment in Romania.
Read Full article »
The local market needs more added-value and complex projects to be developed by the companies

The statement has been uttered within this year's Romanian Outsourcing and Shared Services Summit by Catalina Dodu, Country Manager at Atos, pointing to the local enablers that could enhance the innovation and
Read Full article »
The office market at a glance: The round for tenants is on

Data provided by CBRE show that the office spaces segment will continue to grow rapidly in 2019, and 15 new projects covering 304.000 sqm will be delivered. According to the real estate consultancy agency, curr
Read Full article »
People Empowering Business Forum 2019 to take place on October, 30 at Bucharest

Latest trends like demographic upheaval, globalization, digital technology, and changing social values and worker expectations, are disrupting business models and radically changing the workplace. These are req
Read Full article »
Addressing the mantra of cyber-security: Confidentiality, integrity and availability

The fast advancement of technology in all the aspects of everyday life, either personal or professional, and the emerging of AI (Artificial Intelligence) and ML (Machine Learning), not to mention cloud technolo
Read Full article »