UBB and IT Cluster Cluj brought 450 students to 94 internships

About 450 students from Babes-Bolyai University (UBB) in Cluj-Napoca have benefitted from internships lasting three weeks in 94 organizations within the POSDRU EU program "Increasing employability through successful practice (PRACT- IT)"conducted by the University in partnership with Cluj IT Cluster, one of the most important IT clusters nationwide.

The project was initiated last summer and had a total value of more than 490,000 euros.

The Pract IT program addressed to freshmen and sophomore students (in 1st and 2nd year at UBB), within specializations: Informatics (188 students), Economic Informatics (87) Accounting and management (77), Marketing (29), Mathematics and Informatics (24), International Business and Economics (21), Statistics and Economic Forecasting (16) and General Economics (8).

The objective of the internship was to improve the competencies and professional skills of students in order to increase their ability to successfully fit to sustainable employment.

The organizations where students have held internships are most of them members of the IT Cluster. These include: Accesa IT Consulting, Altom Consulting, Alfa Software, ArtSoft Consult, ARXIA, Cloud Troopers, FORTECH, Imprezzio Global, ISDC, LightSoft, NetBrinel, OptimaGroup, PitechApps, Recognos and TecknoWorks.

Calayst organizations also participated to the project, such as ARIES and Cluj Hub or member universities, like the University of Medicine and Pharmacy "Iuliu Hatieganu". Some partner organizations outside the cluster include: BRD Regional Center Cluj, Banca Transilvania, Steelcase Romania and Yonder Romania.

"We initiated this project in a desire to meet a real need of the labor market in Cluj. IT industry in our city needs people skilled in the domain, young people, eager to assert professionally. We wanted to create a better understanding among students of career opportunities that exist in our industry and at the same time to build a bridge between those who want to start on this path and potential employers. Our program, I believe, was a success and we wish, together with the Faculty of Mathematics and Informatics of UBB, to continue it as soon as possible, "said Andrei Kelemen, executive director, Cluj IT Cluster.

The project enrolled 573 students, of which 450 were selected to participate in all activities through an online matchmaking portal through which students submitted resumes and letters of intent to partner organizations. The latter presented their offer on-site practice all concerned.

The grant awarded to each student involved in the project was worth about 1,144 lei, of which 1,044 lei were offered by UBB and 100 lei by Cluj IT Cluster.


---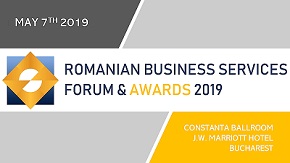 » Huawei opens a centre on cyber securit...
» Romania ranks above EU average in gend...
» ROMANIAN OUTSOURCING AWARDS FOR EXCELL...
» Bucharest, in the top of cities in Eur...
» Meet the experts who will decide the w...
» Bogdan Pelinescu, president of ABSL: A...
» Berg Software Romania: Reasons to outs...
» KPMG launches an application enabling ...
» ABSL GALA AWARDS celebrated its winner...
» George Rotariu, CEO Bitcoin Romania: B...

Meet the speakers at Romanian Business Services Forum 2019 CEO LEADERS DEBATE, on May 7th - Matthieu Pasquier

Matthieu Pasquier is CEO of Societe Generale European Business Services since August 2018 bringing more than 27 years experience in Societe Generale group. During 2014-2018, Matthieu was Head of SG GSC Chennai
Read Full article »
Sorin Mindrutescu among the speakers at Romanian Business Services Forum 2019 CEO LEADERS DEBATE, on May 7th

Sorin Mindrutescu is the Country Leader for Oracle Romania, as of February 2003. In this role, he is responsible for local sales and project delivery. In Romania, Oracle has two major business directions: the l
Read Full article »
Meet the speakers at Romanian Business Services Forum 2019 CEO LEADERS DEBATE, on May 7th - Vivek Bakshi

Vivek Bakshi is the General Manager of Wipro Technologies. He has spent 12 years heading the International Locations / Delivery Centers Europe from the Bucharest office.
Read Full article »
Meet the finalists of the fifth edition of Romanian Business Services Awards 2019

ROMANIAN BUSINESS SERVICES FORUM & AWARDS 2019, in its fifth year, brings on May 7, in Bucharest, a new concept event with engaging keynote sessions by industry leaders, interactive panel discussions, networkin
Read Full article »
Meet the experts who will decide the winners of 2019 at Romanian Business Services Forum & Awards

Each year, Outsourcing Today brings a landmark edition of the Romanian Outsourcing and Shared Services Summit and this year, we are hosting the Fifth of the annual Romanian Outsourcing and Shared Services Award
Read Full article »