Hays: Romanian business services talent is mostly lured in by salary

Most important factors when deciding on a potential employer in Romanian business services industry is still the salary, according to a local survey done by Hays Talent Solution.

About 74% of the respondents said remuneration package is the most important, while training and development are accounting for 61% as importance in choosing a job.

"This is quite different from other geographies were we did similar studies, where salaries are only coming to second or third place," said Malgorzata Jasinska, managing director Hays Talent Solutions, Corporate Accounts director CEE.

Third place in the election criteria is the role played within the firm (48%) and fourth comes the atmosphere within the company (40%). The ability to progress quickly (35%) and international opportunities (30%) come only after that.

"When comes to packaging their message, employers should care about the possibility to earn a bonus, which attracts potential employees in a 58% ratio. Second comes the private healthcare (50%) and third, the flexible hours (46%)," says Jasinska.

"Also, the motivation offered by extra vacation days is quite high (32%) as compared to other countries, maybe because in Romania the normal holiday period is of 20 days, while in Poland is of 26 days and in Western Europe, of 30 days."

Also, when asked how did their find the current job, a quarter of the respondents said they were recommended by a friend. "So your own employees are some of the best ambassadors for your HR department," Jasinska says.

"Also, a quite high indicator compared to other markets is that a quarter of the potential employees responded to a job advert on a job portal. In other markets it doesn't work, definitely not for a quarter of the population. Often we place an ad and pray for applicants, while in Romania HRs still have an easy job".

A third most important tool is the social media, almost 13%of the respondents considering to follow an ad placement there, while consultants and HR agencies are contacted directly in a ratio of just 9-10%.

Moving towards the more and more advanced services, with more automation, attracting talent is crucial.

Hays has a very strong presence in CEE, in Poland, Czech Republic, Slovakia, Hungary and Romania and employs over 250 people in the region.

"The importance of the business services sector is represented by the fact that 80 people out of the 250 are dedicated to this industry in the CEE," says Jasinska.
Most of the respondents work for 4 years in business services and stayed for 2 years in the respective company, majority being located in Bucharest.

B.T.

---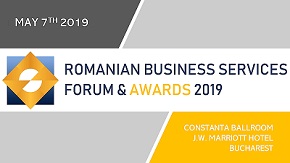 » Raiffeisen Bank Romania outsources onl...
» Horváth & Partners launches Steering ...
» JLL: Total office space in Bucharest t...
» Genpact, Luxoft and Oracle, top lessee...
» SSC in Romania. Who takes the lion's s...
» Oracle results pushed down by a strong...
» World-class HR organizations now spend...
» Romanian employers report the stronges...
» ROMANIAN OUTSOURCING AWARDS FOR EXCELL...
» Eucom: Nine out of ten corporate Roman...

My HR Lab: Research of suitable candidates and giving feedback to rejected ones, the biggest challenge in HR

During June 2019, My HR Lab company run an online (social media platforms) survey "Challenges of the recruitment process" which enrolled over 100 professionals working in HR and recruitment in Romania.
Read Full article »
The local market needs more added-value and complex projects to be developed by the companies

The statement has been uttered within this year's Romanian Outsourcing and Shared Services Summit by Catalina Dodu, Country Manager at Atos, pointing to the local enablers that could enhance the innovation and
Read Full article »
The office market at a glance: The round for tenants is on

Data provided by CBRE show that the office spaces segment will continue to grow rapidly in 2019, and 15 new projects covering 304.000 sqm will be delivered. According to the real estate consultancy agency, curr
Read Full article »
People Empowering Business Forum 2019 to take place on October, 30 at Bucharest

Latest trends like demographic upheaval, globalization, digital technology, and changing social values and worker expectations, are disrupting business models and radically changing the workplace. These are req
Read Full article »
Addressing the mantra of cyber-security: Confidentiality, integrity and availability

The fast advancement of technology in all the aspects of everyday life, either personal or professional, and the emerging of AI (Artificial Intelligence) and ML (Machine Learning), not to mention cloud technolo
Read Full article »