Jacek Levernes: Promoting Romania and CEE to worldwide leaders

As Jacek Levernes and other business services industry leaders promoted Romania in their recent business tour to New York, major investors with assets worth billions of dollars showed their interest for the region.

"Some of us went to New York at the ABSL- Bloomberg conference, where we met some of the leaders of the world. There was the COO of Goldman Sachs, the CFO of Moneygram, the COO of Franklin Templeton, other senior leaders of P&G and other companies, and guess what? They were talking to other senior americans and explaining how fantastic is to invest in Eastren Europe and how great is to have operations there."

Jacek Levernes is the President of ABSL Poland, Vice‐President, HP Global Business Services – Europe, Middle East & Africa (EMEA), and member of HP EMEA Executive Leadership Team President of the Association of Business Service Leaders in Poland (ABSL).

Levernes is responsible for Hewlett‐Packard′s Global Business Service across EMEA since 2009, and member of HP EMEA's Executive Management Board. He previously served as Managing Director of HP Global Business Center in Wroclaw, Poland.

He also worked as the Global Account Manager at HP BPO, where he was responsible for worldwide services provided to, amongst others, Procter & Gamble. Between 1996 and 2005, Mr. Levernes worked with Baxter International in Chicago, Brussels, and Zurich.

His areas of expertise are the European and global business services and outsourcing sectors, foreign investment, client advisory, operational management, procurement as well as strategy and business development. Mr. Levernes was born in Wroclaw/Poland, but is a Norwegian citizen, speaks multiple languages, and was educated at Indiana University in the USA, NHH in Norway, NUS in Singapore, as well as INSEAD in France.

Jacek is also the co‐founder and President of the Management Board of the Association of Business
Service Leaders ‐ ABSL (the national business service sector body) in Poland since 2009 ‐ representing 80.000 jobs, and investors like IBM, Google, McKinsey, Sony, Shell, UBS, Citi, Credit Suisse, Franklin Templeton, CapGemini, P&G, and Thomson Reuters. (Photo credentials: Parkiet.com).


---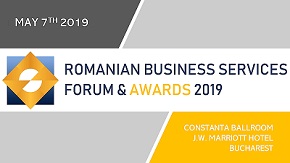 » The most appreciated companies from th...
» Webhelp Romania aiming for EUR 10 mill...
» Tremend joins Mellanox in powering the...
» Manpower: Romania's labor market, more...
» The Outsourcing industry announces its...
» Deloitte's Tech Trends 2019 report: B...
» Bucharest, in the top of cities in Eur...
» Oracle reaches 4,200 employees and pla...
» Genpact's COO: Staying ahead of the cu...
» Ascentis: The top ten HR trends for 20...

Nomination are now open for Romanian Business Services Forum and Awards

Nominations have opened for the prestigious Romanian Business Services Forum & Awards. The 2019 awards will continue to recognize and reinforce the important contribution made by business services professionals
Read Full article »
Study: 89 per cent of finance teams yet to embrace Artificial Intelligence

Report by Association of International Certified Professional Accountants and Oracle shows that almost 90 per cent of finance teams do not have the skills to support digital transformation.
Read Full article »
Bucharest, in the top of cities in Europe with the largest number of experts in high-tech industry

Bucharest is among the top cities boasting the most experts in the high-tech innovative industry, with over 70,000 current employees, next to London, Dublin, Madrid or Budapest, reads a study conducted by CBRE
Read Full article »
CBRE study: Post-millennials, the happiest about their offices
During 2018, real estate consultancy company CBRE conducted the first study dedicated to work environment in office buildings in Bucharest. The respondents have been structured in four age segments, such as Z g
Read Full article »
Deloitte's Tech Trends 2019 report: Beyond the digital frontier

The recently released Deloitte's Tech Trends 2019: Beyond the digital frontier, as each Tech Trends report in the series conducted by the consultancy company, lobbies for embracing the increasing, often mind-b
Read Full article »