Jacek Levernes: Promoting Romania and CEE to worldwide leaders

As Jacek Levernes and other business services industry leaders promoted Romania in their recent business tour to New York, major investors with assets worth billions of dollars showed their interest for the region.

"Some of us went to New York at the ABSL- Bloomberg conference, where we met some of the leaders of the world. There was the COO of Goldman Sachs, the CFO of Moneygram, the COO of Franklin Templeton, other senior leaders of P&G and other companies, and guess what? They were talking to other senior americans and explaining how fantastic is to invest in Eastren Europe and how great is to have operations there."

Jacek Levernes is the President of ABSL Poland, Vice‐President, HP Global Business Services – Europe, Middle East & Africa (EMEA), and member of HP EMEA Executive Leadership Team President of the Association of Business Service Leaders in Poland (ABSL).

Levernes is responsible for Hewlett‐Packard′s Global Business Service across EMEA since 2009, and member of HP EMEA's Executive Management Board. He previously served as Managing Director of HP Global Business Center in Wroclaw, Poland.

He also worked as the Global Account Manager at HP BPO, where he was responsible for worldwide services provided to, amongst others, Procter & Gamble. Between 1996 and 2005, Mr. Levernes worked with Baxter International in Chicago, Brussels, and Zurich.

His areas of expertise are the European and global business services and outsourcing sectors, foreign investment, client advisory, operational management, procurement as well as strategy and business development. Mr. Levernes was born in Wroclaw/Poland, but is a Norwegian citizen, speaks multiple languages, and was educated at Indiana University in the USA, NHH in Norway, NUS in Singapore, as well as INSEAD in France.

Jacek is also the co‐founder and President of the Management Board of the Association of Business
Service Leaders ‐ ABSL (the national business service sector body) in Poland since 2009 ‐ representing 80.000 jobs, and investors like IBM, Google, McKinsey, Sony, Shell, UBS, Citi, Credit Suisse, Franklin Templeton, CapGemini, P&G, and Thomson Reuters. (Photo credentials: Parkiet.com).


---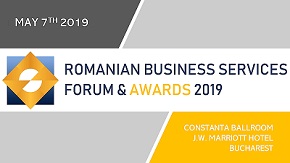 » Evolving from consumers of resources t...
» Preparing for the new future
» ROMANIAN OUTSOURCING AWARDS FOR EXCELL...
» Pepper Escu, the first humanoid robot ...
» Volvo Cars and Uber present production...
» Berg Software Romania: Reasons to outs...
» Marian V. Popa: Meet the speakers at R...
» Deloitte 2019 Global Human Capital Tre...
» Andrei Voica: Meet the speakers at Rom...
» How giving back pays dividends for com...

Digital Transformation Conference to take place on June 19 at Bucharest

The Diplomat – Bucharest organizes Digital Transformation Conference to be held on 14 of June in Bucharest, at Hilton Hotel - Regina Maria Hall, starting 8:30 AM.
Read Full article »
L&D Conference by The Diplomat Bucharest took place on June 4th at Bucharest

The Diplomat-Bucharest organizes the Third Edition of its Learning & Development CONFERENCE on 4 June, 2019 at InterContinental Hotel Bucharest starting 09:00 am.
Read Full article »
Meet the winners of ROMANIAN BUSINESS SERVICES AWARDS, 2019 edition

ROMANIAN BUSINESS SERVICES FORUM & AWARDS 2019, in its fifth year, brrought on May 7, in Bucharest, a new concept event with engaging keynote sessions by industry leaders, interactive panel discussions, network
Read Full article »
Few hours away from to the long awaited CEO Leaders Debate, a premiere of Romanian Business Services Forum and Awards
We are a few hours away to the long awaited CEO Leaders Debate, a premiere of Romanian Business Services Forum and Awards on May 7.
Read Full article »
Colin C. Lovering: Meet the speakers at Romanian Business Services Forum & Awards 2019, on May 7

Colin C. Lovering has been living and working in Romania since 2009 when he arrived to offer consultancy and advice to organisations looking for growth and profitability and founded Achieve International.
Read Full article »