Florin Grama: The industry will have the opportunity to grow to 150,000 employees

"We estimate that the industry will have the opportunity to grow to 150,000 employees during the next three to five years, while the true potential is of 300,000 employees," says Florin Grama.

He leads Microsoft's largest Customer Service & Support (CSS) team in Europe, Middle East and Africa which consists of over 550 support professionals and consultants based in Romania. The team is responsible for delivering technical support and services to partners and customers in the enterprise, mid-market, and small/medium business segments.

In the past 3 years at Microsoft, Florin has advocated within the organization the passion and engineering capabilities of Romanians, attracted talented IT specialists and grew the service and support business three times, driving higher quality of customer experiences and leading optimization strategies. Prior to Microsoft, he worked for twelve years for Siemens in IT service delivery and service management, product development, sales and strategy. He is also President of Managing Board of ABSL Romania.

"For the past 10 years the Business Services industry in Romania has had a spectacular growth and development. In 2014, 1.9% of the active working population was employed in the industry and business represented 1.4% of the country's GDP, while at the same time contributing to the state's budget with 500 million Euros through taxes. Only this year a dozen thousands jobs have been created in the industry, which is the fastest growth recently," Grama says.

The Association of Business Service Leaders (ABSL) in Romania, through its members and strategic partnerships, actively contributes to promoting the industry and opportunities amongst its members and to foreign investors, Grama explains. ABSL has made its mission to drive a continuous expansion and consolidation of the Business Services industry. It is determined and set to foster the profile of the Business Process Outsourcing (BPO), Shared Services Centers (SSC), Information Technology Outsourcing (ITO) and Research & Development (R&D) sectors and promote lawful knowledge sharing between the companies in the industry.

"It is our strong belief that only by doing so we can improve the business environment in Romania, stimulate long-term growth and sustainability."

One of the most important initiatives in the past year for ABSL Romania has been the establishment of the Business Services Master Program with one of the most renowned universities in Romania, Bucharest University of Economic Studies. Since the most important challenge this industry is currently facing is the Human Resource, ABSL has dedicated its know-how and resources in 2015 to developing and implementing a pilot program which provides professors and students the opportunity to gain access to the newest and most innovative technologies and practical knowledge in the industry.

"We strongly believe that we have a responsibility to bring our practical knowledge into the Education system in order to make our industry, Universities and students even more successful."

The industry will continue to have an impact in fields such as healthcare, public services, education and, equally importantly, on the infrastructure development. I personally strongly believe that the Business Service industry can have an even stronger impact on Romania's future development and wealth through proactive know-how sharing and working together with authorities to promoting Romania as the preferred business services destination across the globe and by getting involved in the so much needed reinvention of the education system.

Florin Grama strongly believes that achieving high results in the domain of technical support and customer service relies on building a strong and motivated team by offering long-term career development opportunities and creating an open, respectful, and pleasant work environment. Florin Grama holds a Bachelor of Science in Physics from The West University of Timisoara and a Professional Diploma in Management from Open University. Florin Grama is married, lives in Bucharest, Romania and enjoys travelling and getting to know new cultures and people, swimming and reading.


---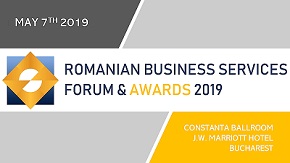 » Digital Transformation Conference to t...
» ASE's HR Master – helping students i...
» Meet the winners of ROMANIAN BUSINESS ...
» Capgemini to open new office at Suceav...
» Marian V. Popa: Meet the speakers at R...
» Romulus Caralicea: Meet the speakers a...
» Randstad Employer Branding 2019: Salar...
» Zitec launches its 1 million Euro Mirr...
» Deloitte Romania opens application for...
» Oracle Romania inaugurates the Iasi of...

Digital Transformation Conference to take place on June 19 at Bucharest

The Diplomat – Bucharest organizes Digital Transformation Conference to be held on 14 of June in Bucharest, at Hilton Hotel - Regina Maria Hall, starting 8:30 AM.
Read Full article »
L&D Conference by The Diplomat Bucharest to take place on June 4th at Bucharest

The Diplomat-Bucharest organizes the Third Edition of its Learning & Development CONFERENCE on 4 June, 2019 at InterContinental Hotel Bucharest starting 09:00 am.
Read Full article »
Meet the winners of ROMANIAN BUSINESS SERVICES AWARDS, 2019 edition

ROMANIAN BUSINESS SERVICES FORUM & AWARDS 2019, in its fifth year, brrought on May 7, in Bucharest, a new concept event with engaging keynote sessions by industry leaders, interactive panel discussions, network
Read Full article »
Few hours away from to the long awaited CEO Leaders Debate, a premiere of Romanian Business Services Forum and Awards
We are a few hours away to the long awaited CEO Leaders Debate, a premiere of Romanian Business Services Forum and Awards on May 7.
Read Full article »
Colin C. Lovering: Meet the speakers at Romanian Business Services Forum & Awards 2019, on May 7

Colin C. Lovering has been living and working in Romania since 2009 when he arrived to offer consultancy and advice to organisations looking for growth and profitability and founded Achieve International.
Read Full article »