Romania, a shining star of business services?

A shining star or not, Romanian outsourced services industry starts to grip in the developed cities: there's no more talent to hire.

"The move is towards uncharted territories such as Iasi. But the buzz word is Bulgaria," tells me one of the leaders in the HR for outsourcing industry at the ABSL conference in Bucharest.

Talking outsourcing with a macroec twist, the ABSL (Association of Romanian Business Services Leaders) forum presents to a packed audience of 500 the views of some of the most prominent analysts in this field, CEOs of large multinationals with a worldwide presence and dominance in the Central and Eastern Europe under the title of "Romania, a shining star of business services."

Romania became an outsourcing destination about 10 years ago. Previous to that, we have outsourced only for the textile industry in lohn and in IT specialized programs and code writing.
Yet the days of the lohn are long gone, whilst the IT outsourcing grew like no other industry. Small firms managing key accounts for clients residing in US, Japan, Australia and Western Europe led the outsourcing revolution starting with the end of 90's. Now you can hardly find a true professional in this field to hire, the salaries rocketing sky-high and the companies fighting really hard (within the budget and management culture limits) to keep their employees satisfied.

Romania saw an advance of the business services industry to more than 60,000 employees and this year will rise to 70,000 and almost 1.6% of the GDP in revenue. The industry is set to grow, but Romania has simply not enough resources to fulfill a large scale demand. Managers in the ITO field already complain about the brain drain, and it is only the attrition rate of 20-30% that liberates some talent for others.

Bucharest, Timisoara and Cluj are nearly depleted of really talented personnel, and companies are striving to find educated, multilingual employees in these areas. The move towards the east, to Iasi and surrounding areas will, probably, deplete the local talent in just a couple of years.

But truth is that even if the investors are a bit reluctant to come to Romania, especially in the more sophisticated domains, there are a lot of new companies coming to town.

Without naming any names, a simple walk to Bucharest northern area at noon reveals a huge inflow of young workers, with the average of 30 and under, rushing in to get lunch. It is the biggest wave of people I have ever seen, and I'm just visiting an office park of just 10 buildings.

From automotive to accounting services, outsourced services are multiplying exponentially. Salaries grow, employment reaches unbelievable rates for Romania as a whole, consumption rises, services abound, prices keep up and central bankers may breathe a sigh of relief: no more deflation in these areas.

As attractive this scenario might be, it is, unfortunately, limited to a certain part of demographics: young people with multilingual skills, IT trained and under 30. Yet there is hope. The search for German language professionals is so tough, one employer tells me it pays up to 1,000 euros in salaries and has employees of up to 50 years of age.

Concluding, there is a boom in the outsourced services sector. It marginally affects the entire economy, and it may be responsible for a lot of the foreign direct investment flow - which reached in the first eight months of this year the entire volume of 2014, of about 2.4 billion euros (that is, if the central bank doesn't come yet with another correction).

Comparing it to Poland, Romania doesn't seem to earn the "star" nomination. Compare it to the CEE region, it does.

Bogdan Tudorache is the editor in chief of Outsourcing Today


---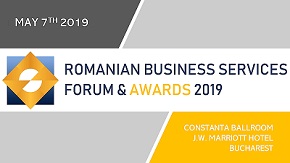 » Raiffeisen Bank Romania outsources onl...
» Horváth & Partners launches Steering ...
» JLL: Total office space in Bucharest t...
» Colliers International takes over the ...
» Oracle results pushed down by a strong...
» Survey: Romanians switch to a lower-pa...
» SSC in Romania. Who takes the lion's s...
» Genpact, Luxoft and Oracle, top lessee...
» Romanian employers report the stronges...
» Eucom: Nine out of ten corporate Roman...

My HR Lab: Research of suitable candidates and giving feedback to rejected ones, the biggest challenge in HR

During June 2019, My HR Lab company run an online (social media platforms) survey "Challenges of the recruitment process" which enrolled over 100 professionals working in HR and recruitment in Romania.
Read Full article »
The local market needs more added-value and complex projects to be developed by the companies

The statement has been uttered within this year's Romanian Outsourcing and Shared Services Summit by Catalina Dodu, Country Manager at Atos, pointing to the local enablers that could enhance the innovation and
Read Full article »
The office market at a glance: The round for tenants is on

Data provided by CBRE show that the office spaces segment will continue to grow rapidly in 2019, and 15 new projects covering 304.000 sqm will be delivered. According to the real estate consultancy agency, curr
Read Full article »
People Empowering Business Forum 2019 to take place on October, 30 at Bucharest

Latest trends like demographic upheaval, globalization, digital technology, and changing social values and worker expectations, are disrupting business models and radically changing the workplace. These are req
Read Full article »
Addressing the mantra of cyber-security: Confidentiality, integrity and availability

The fast advancement of technology in all the aspects of everyday life, either personal or professional, and the emerging of AI (Artificial Intelligence) and ML (Machine Learning), not to mention cloud technolo
Read Full article »