Apostoleanu, Oracle: Human talent, most important element in the outsourcing industry

In the context of new trends and accelerated growth in outsourcing, the most important element in the outsourcing industry remains the human factor, for which there is a continuous battle in the market, says Mihaela Apostoleanu, director EMEA Premier Support Business Operations, Oracle.

Cultural differences affect employee engagement in company.

However, the greatest challenge is not finding human resources, but their retention and their stimulation to have a greater employee engagement in the company. A recent study shows that only 13 per cent of the company employees are truly engaged and feel like they are part of the company. One of the reasons underlying the lack of involvement is the cultural difference that can cause lack of motivation and performance within the team, she says, quoted by The Diplomat - Bucharest.

"The attrition in Romania′s outsourcing exceeds 18 per cent," said Apostoleanu.

"Given the fact that the cost of replacing an employee per year is around 50,000 USD, I think it is important to take care that our workforce is motivated and involved. Cultural differences may affect the employee engagement in the company and in this industry the teams are mostly multicultural. There are totally different ways of communication between cultures and I think a simple course in cultural awareness can raise people's attention on a few things that normally get out of their sight."

According to Apostoleanu, in the outsourcing industry is very important to have equality and common rights for employees, in order to feel that they are part of the same team and that they are not treated differently. Employees should have a unique system of performance evaluation, should have access to the same information channels and equal promotion and development rights.

"When, at the group level, there are differences between centres, between Romania′s location and another country′s office, for instance, it generates a lack of motivation," she added.

Boosting performance is another important aspect, and recent studies have shown that money is not decisive on the long term. Moreover, such financial rewards can lead to decreased performance, said Apostoleanu.

"To identify how to motivate performance, we need to look at the profile of the employees working in outsourcing," she added.

"Most of them are young and motivated. They want to have a flexible schedule and they look for recognition and feedback. They want things to happen quickly and to be fun. As long as the market grows rapidly, development and promotion opportunities exist for them within a centre."


---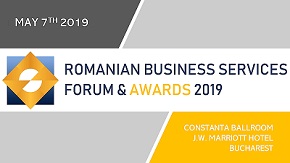 » Raiffeisen Bank Romania outsources onl...
» Oracle results pushed down by a strong...
» World-class HR organizations now spend...
» Apostoleanu, Oracle: Human talent, mos...
» Microsoft and Oracle to interconnect M...
» The importance of training in developi...
» ANIS: Romanian IT market annual revenu...
» Healthcare IT outsourcing market is ex...
» Bosch Service Solutions to grow 20% Ti...
» Omnichannel: 4 pillars of a purposeful...

My HR Lab: Research of suitable candidates and giving feedback to rejected ones, the biggest challenge in HR

During June 2019, My HR Lab company run an online (social media platforms) survey "Challenges of the recruitment process" which enrolled over 100 professionals working in HR and recruitment in Romania.
Read Full article »
The local market needs more added-value and complex projects to be developed by the companies

The statement has been uttered within this year's Romanian Outsourcing and Shared Services Summit by Catalina Dodu, Country Manager at Atos, pointing to the local enablers that could enhance the innovation and
Read Full article »
The office market at a glance: The round for tenants is on

Data provided by CBRE show that the office spaces segment will continue to grow rapidly in 2019, and 15 new projects covering 304.000 sqm will be delivered. According to the real estate consultancy agency, curr
Read Full article »
People Empowering Business Forum 2019 to take place on October, 30 at Bucharest

Latest trends like demographic upheaval, globalization, digital technology, and changing social values and worker expectations, are disrupting business models and radically changing the workplace. These are req
Read Full article »
Addressing the mantra of cyber-security: Confidentiality, integrity and availability

The fast advancement of technology in all the aspects of everyday life, either personal or professional, and the emerging of AI (Artificial Intelligence) and ML (Machine Learning), not to mention cloud technolo
Read Full article »