Ilie, Genpact: Romania, still immature for employability concept

Employability is a concept that provides benefits to all involved parties, says Crina Ilie, vice president, Human Resources, Genpact Europe.

It bring benefits to the employees, who always receive information on trends of the industry they work in or on various options, challenges and things they do not have time to insist on; to the employers, who can prepare the business plan for the coming years proactively, by analysing the work forces and allocating investments in learning and development; and also to the business environment, says Ilie, quoted by The Diplomat - Bucharest.

However, Romania is not mature enough to think about what employability really means, according to Crina Ilie.

"Poland has promoted the concept of employability for a long time now, both in universities and environment business," said Ilie. "Unfortunately, we are not mature enough to think about its real meaning."
Genpact, with 2,500 employees in Romania, hired on the local market hundreds of people every year, 60 per cent of them being at their first job. In the last two to three years, the company started to make the educational training programmes transparent, both with student associations and certain universities through ABSL (Association of Business Service Leaders in Romania).

"From the beginning, our strategy was to build skills and talents," said Ilie. "We want employees who put more emphasis on the profession and less on the job and occupation. At the moment, at the size we have in Romania, we hire around 700 to 900 new colleagues every year. We are a company in which there is a certain attrition because, probably, other companies decided to buy the talents further. This is not necessarily something with which I disagree, because we all need to increase the quality of the industry. We differentiate ourselves through a very good school which allows us to support this business model."

To demonstrate the intention to invest in training, Genpact has launched the Gateway programme, addressing new graduates who normally would not be hired by the company for various reasons. Through this four to six week programme, 200 graduates pass each year and finally 95 per cent remain in the company. "They are among the most productive and loyal employees, because they feel that they have been granted a chance and through our help they succeed to enter the industry, many of them being at their first job in a multinational company," Ilie concluded.


---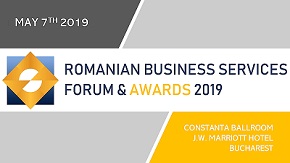 » Raiffeisen Bank Romania outsources onl...
» World-class HR organizations now spend...
» Oracle results pushed down by a strong...
» Sergiu Negut, on the stage of People i...
» Apostoleanu, Oracle: Human talent, mos...
» Bosch Service Solutions to grow 20% Ti...
» DTZ: Office demand outside Bucharest t...
» TELUS International: Chatbots - The pr...
» Microsoft and Oracle to interconnect M...
» BPO and SSC investors target smaller P...

My HR Lab: Research of suitable candidates and giving feedback to rejected ones, the biggest challenge in HR

During June 2019, My HR Lab company run an online (social media platforms) survey "Challenges of the recruitment process" which enrolled over 100 professionals working in HR and recruitment in Romania.
Read Full article »
The local market needs more added-value and complex projects to be developed by the companies

The statement has been uttered within this year's Romanian Outsourcing and Shared Services Summit by Catalina Dodu, Country Manager at Atos, pointing to the local enablers that could enhance the innovation and
Read Full article »
The office market at a glance: The round for tenants is on

Data provided by CBRE show that the office spaces segment will continue to grow rapidly in 2019, and 15 new projects covering 304.000 sqm will be delivered. According to the real estate consultancy agency, curr
Read Full article »
People Empowering Business Forum 2019 to take place on October, 30 at Bucharest

Latest trends like demographic upheaval, globalization, digital technology, and changing social values and worker expectations, are disrupting business models and radically changing the workplace. These are req
Read Full article »
Addressing the mantra of cyber-security: Confidentiality, integrity and availability

The fast advancement of technology in all the aspects of everyday life, either personal or professional, and the emerging of AI (Artificial Intelligence) and ML (Machine Learning), not to mention cloud technolo
Read Full article »