Deloitte launched mobile app featuring fiscal updates

Deloitte Romania announced the launch of a mobile app containing fiscal information, news, opinions, specialized articles and other resources developed by the company's consultants.

The app called Tax@Hand, highly interactive, with news, tax information and perspective articles, and links to Deloitte International Tax Source, containing tax rates for 65 jurisdictions and more, can be tailored to the user′s needs, who can select only topics and geographies of interest and choose a preferred language. It offers real-time notifications, the option to save articles for later and access to professionals with specialized expertise worldwide.

The app, available on iOS, Android and Blackberry platforms is offered for download free of charge.
Deloitte Romania and Moldova is a member of Deloitte Touche Tohmatsu Limited (DTTL), a UK private company limited by guarantee. In Romania, the services are provided by Deloitte Audit S.R.L., Deloitte Tax S.R.L., Deloitte Consultanta S.R.L., Deloitte Evaluare S.R.L. Deloitte Fiscal Representative S.R.L. (jointly referred to as "Deloitte Romania").

Deloitte provides services in audit, tax, consulting, and financial advisory to public and private sector clients. With a global network of member firms in over 150 countries, Deloitte employs 200,000 professionals.


---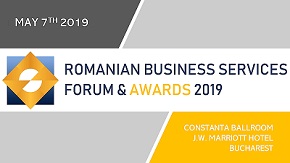 » Huawei opens a centre on cyber securit...
» ROMANIAN OUTSOURCING AWARDS FOR EXCELL...
» Romania ranks above EU average in gend...
» Bucharest, in the top of cities in Eur...
» Berg Software Romania: Reasons to outs...
» Meet the experts who will decide the w...
» Bogdan Pelinescu, president of ABSL: A...
» KPMG launches an application enabling ...
» ABSL GALA AWARDS celebrated its winner...
» Oracle reaches 4,200 employees and pla...

Colin C. Lovering: Meet the speakers at Romanian Business Services Forum & Awards 2019, on May 7

Colin C. Lovering has been living and working in Romania since 2009 when he arrived to offer consultancy and advice to organisations looking for growth and profitability and founded Achieve International.
Read Full article »
Antoniu Panait: Meet the speakers at Romanian Business Services Forum & Awards 2019, on May 7

Managing Director for VASTINT Romania since 2009, Antoniu Panait has an executive experience of more than 10 years, mainly in real estate.
Read Full article »
Andrei Voica: Meet the speakers at Romanian Business Services Forum & Awards 2019, on May 7

Andrei Voica, Director Project Management and Workplace Consultancy, Colliers International. Truly passionate about his work and always eager to add value to each project.
Read Full article »
Romulus Caralicea: Meet the speakers at Romanian Business Services Forum & Awards 2019, on May 7

Romulus is Wipro's Information Security, Risk & Compliance Lead for Europe. In his role he is managing internal audits and compliance activities for all clients and internal functions based on the corporate ISO
Read Full article »
George Didoiu: Meet the moderator of Romanian Business Services Forum 2019 CEO LEADERS DEBATE, on May 7

In his 15 years of real estate, George Didoiu advised on the relocation of top IT&C, finance-banking and consultancy companies, which total over 10,000 employees.
Read Full article »