PwC: The competitive advantages of Romania are language, soft and technical skills

The Romanian SSC & BPO market is mature, offering a high range of capabilities and a large pool of skilled employees, says Francesca Postolache, partner, Audit Services, PwC Romania.

Romania SSC/BPO market started to develop in the early 2000s, covering the traditional functions for IT, F&A and call centres. Bucharest and Timisoara, benefitting from large university centres and strategic locations, were the first preferred options for SSC/ BPO. After 2006, other locations started to be targeted as well, to leverage the first-mover advantage and lower labour costs. The SSC-BPO market employs between 20-30,000 staff and is expected to grow with 20-30 per cent over the next three years, shifting from transactional processes to value-added activities (e.g. R&D, talent management, engineering).

According to Francesca Postolache, partner, Audit Services at PwC, Romania is the second largest talent pool in the CEE, with over 120,000 graduates per year, main university centres of the country being the SSC/ BPO hubs, providing a qualified labour pool.

"Romania has over 100 universities with more than 450,000 students mainly in the IT and Engineering (approx.140,000 students) and Economic fields (approx. 90,000 students)," said Postolache.

"All university graduates are required to master at least one foreign language. For business degrees two languages are needed. The Romanian workforce is highly receptive to typical Western corporate values and possesses a high degree of cultural understanding. Current salary levels and future salary trends are highly competitive compared to neighbouring countries."

The language skills available on the Romanian market have been one of the first attraction points for investments in SSC-BPO. Around 90 per cent of educated Romanians speak at least one foreign language, 25 per cent of Romanians speak at least two foreign languages and four per cent of Romanians speak more than three foreign languages.

"Romanians are internationally known for their high aptitude in speaking European languages: primarily English, followed by French, Italian, Spanish and German English is now spoken by eight million Romanians; French by 4.5 million; German, Italian and Spanish, 1.5-2.5 million," said Postolache. "In the eastern part of Romania there is a high density of Russian speakers, but there is also significant availability of Russian in Bucharest, through the Moldavian students coming for studies here. However, there is limited availability of more exotic languages, like Czech, Slovak and Nordic languages, which can be found only in small areas in the western part of the country, and usually not at business proficiency levels," she added.

Regarding taxes, besides the VAT return, which is sometimes a difficult objective to achieve due to the higher than 45-day interval of reimbursement, another fiscal law specifies that the salaries generated from activities of software development and sales are exempt from taxes, up to the level of 10,000 USD. "Another significant cost within the P&L indicator are the costs with the rents, which, for the companies in the BOP and SSC fields represent a large share due to the large spaces these companies are renting," said Postolache.

"Also, the Government introduced a new state-aid scheme starting 1 July 2014, which could bring a significant financial incentive for setting up the SSC in Romania. The new state-aid scheme provides for co-financing of salary costs incurred by the employer for the new jobs created if certain conditions are met. The application should be supported by a business plan which will also demonstrate the incentive effect of the state aid, an investment plan, a hiring plan and a number of administrative documents (the qualitative and quantitative indicators required for qualification)," Postolache concluded.


---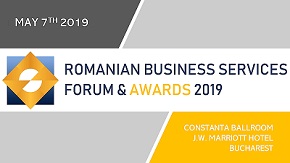 » Huawei opens a centre on cyber securit...
» ROMANIAN OUTSOURCING AWARDS FOR EXCELL...
» Romania ranks above EU average in gend...
» Bucharest, in the top of cities in Eur...
» Meet the experts who will decide the w...
» Berg Software Romania: Reasons to outs...
» KPMG launches an application enabling ...
» Bogdan Pelinescu, president of ABSL: A...
» ABSL GALA AWARDS celebrated its winner...
» George Rotariu, CEO Bitcoin Romania: B...

Catalina Dodu - Meet the speakers at Romanian Business Services Forum 2019 CEO LEADERS DEBATE, on May 7

Catalina Dodu runs the operations of Atos Romania since March 2014, with an experience of over 15 years in IT management. Previous to being appointed Country Manager, Catalina managed the System Integration div
Read Full article »
Philippe Beucher: Meet the speakers at Romanian Business Services Forum 2019 CEO LEADERS DEBATE, on May 7

Philippe Beucher is the Managing Director of Accenture Operations – Danubia Region, leading the Operations entity for Romania, Czech Republic, Slovakia and Hungary starting from February 2019. For the past 1
Read Full article »
Meet the speakers at Romanian Business Services Forum 2019 CEO LEADERS DEBATE, on May 7th - Matthieu Pasquier

Matthieu Pasquier is CEO of Societe Generale European Business Services since August 2018 bringing more than 27 years experience in Societe Generale group. During 2014-2018, Matthieu was Head of SG GSC Chennai
Read Full article »
Sorin Mindrutescu among the speakers at Romanian Business Services Forum 2019 CEO LEADERS DEBATE, on May 7th

Sorin Mindrutescu is the Country Leader for Oracle Romania, as of February 2003. In this role, he is responsible for local sales and project delivery. In Romania, Oracle has two major business directions: the l
Read Full article »
Meet the speakers at Romanian Business Services Forum 2019 CEO LEADERS DEBATE, on May 7th - Vivek Bakshi

Vivek Bakshi is the General Manager of Wipro Technologies. He has spent 12 years heading the International Locations / Delivery Centers Europe from the Bucharest office.
Read Full article »