Tesiu, Wipro: A third of companies to outsource or build their own service centres

According to Deloitte's "2015 Global Shared Services Survey", only ten per cent of the SSCs worldwide are located in CEE, comparing to17 per cent in APAC and 16 per cent in LATAM.

However, 27 per cent of companies interviewed in the report considered outsourcing their operations this year or creating a SSC, which represents an opportunity for both the region and Romania, according to Roxana Tesiu, Europe HR head at Wipro Technologies.

"We have to recoup a gap compared to other areas, which, at the moment, are perceived as more attractive than the CEE in terms of outsourcing," said Tesiu. "An important fact is, however, that for 2015, one company out of three aims to outsource or build its own service centre. This is an opportunity both for the region and Romania. Nevertheless, note that according to the report, two states are coming up from behind: Bulgaria and Latvia."

Tesiu went on to add that she has noticed a significant increase of the number of companies which decided to relocate their service centres or centres of excellence from Western European countries to Romania. Almost every month new SSCs or GSCs appear in Bucharest, Cluj or Timisoara. Another direction she pointed out was the shift from the traditional single-function centre to multifunctional centre or Global Business Centres (GBS). In addition, there is tendency of migration towards a hybrid model of delivery. However, the third trend she saw is represented by the labour arbitrage, which does not represent anymore a direct competitive advantage.

"The third trend is that we are no longer a low-cost destination, so the direct competitive advantage that came from the cheap labour force is no longer an argument," she said. "Customers want the added-value behind the numbers and records."

Analysing the market challenges, Tesiu identified the technology impact that triggers the shift from employees executing transactions to Digital Talent, the "Lift and Shift" approach that is gradually replaced by delivery models capable to generate added value for the customers, RPA (Robotics Process Automation) and the limited capabilities for certain foreign languages especially when combined with HRO and ITO skillsets. "Another challenge for the back office operations is crowdsourcing," said Tesiu.

"We are at the beginning, but, according to field research, probably in five years crowdsourcing will become an increased competitive trend for back office operations."

---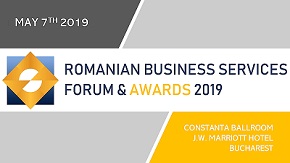 » Romania slides 10 positions in A.T. Ke...
» Having a say in the world of the busin...
» ROMANIAN OUTSOURCING AWARDS FOR EXCELL...
» Digitaljob.ro: Romanian software, onli...
» Ubisoft Coding Campus records 1,000 ap...
» Meet the winners of ROMANIAN BUSINESS ...
» Genpact's COO: Staying ahead of the cu...
» Digital Transformation Conference to t...
» Berg Software Romania: Reasons to outs...
» Andrei Voica: Meet the speakers at Rom...

Value creation enabled by people and innovation

As CEO of SG EBS since July 2018, you took over the Group's development strategy of the company on the Romanian market. Please share with us some of your conclusions, after almost one year of mandate, and plans
Read Full article »
Having a say in the world of the business service leaders

In Romania, The Association of Business Service Leaders in Romania (ABSL) is the organization that represents the business services sector in Romania, gathering high profile companies which conduct business in
Read Full article »
Digital Transformation Conference to take place on June 19 at Bucharest

The Diplomat – Bucharest organizes Digital Transformation Conference to be held on 14 of June in Bucharest, at Hilton Hotel - Regina Maria Hall, starting 8:30 AM.
Read Full article »
L&D Conference by The Diplomat Bucharest took place on June 4th at Bucharest

The Diplomat-Bucharest organizes the Third Edition of its Learning & Development CONFERENCE on 4 June, 2019 at InterContinental Hotel Bucharest starting 09:00 am.
Read Full article »
Meet the winners of ROMANIAN BUSINESS SERVICES AWARDS, 2019 edition

ROMANIAN BUSINESS SERVICES FORUM & AWARDS 2019, in its fifth year, brrought on May 7, in Bucharest, a new concept event with engaging keynote sessions by industry leaders, interactive panel discussions, network
Read Full article »