State aid schemes and comparison between old and new

The first edition of state-aid schemes was completed in mid-2014, says Valentina Craciun, financial advisor, auditor, Noerr Finance & Tax.

The assets scheme for investments over 100 million Euro and 500 employees had a 19 per cent absorption rate, while the second assets scheme, addressed to companies that have invested more than five million Euro and at least 50 employees, had a 50 per cent absorption rate. Regarding GD no 797/2012 for job creation, the scheme was a success, with an absorption rate of 100 per cent. It was accessed by large companies such as Deutsche Bank, Endava, Vodafone, Microsoft and IBM.

Regarding the new state-aid schemes, they came into force in the second half of 2014. According to Valentina Craciun, financial advisor and auditor at Noerr Finance & Tax, the allocated budget for the new schemes is 600 million Euro, meaning 100 million Euro per year. Financing agreements will be issued until 31 December 2020 and the repayment of state aid can be achieved by 2025.

There are a number of differences between the old and new state-aid schemes and Craciun analysed them.

If the old state-aid scheme for assets was addressed to companies investing more than five million Euro, the new one is for those who invest at least ten million Euro. Regarding the 797/2012 scheme, it had a threshold of 200 new jobs and targeted investments in IT&C and R&D. Currently, however, the new 332/2014 scheme to support investments that promote regional development by creating jobs requires just ten new work places. Basically, it addresses all categories of companies, large, small and medium, Romanian entrepreneurs with fewer employees also being able to access the state-aid schemes, said Craciun.

"It is important to know that these jobs must be directly created by an investment project and must not, under any circumstances, be created before receiving the grant agreement and no later than three years after the completion of the investment," said Craciun. "The company is obliged to keep these jobs three years in case of SMEs, from the employment of the first job, and five years for large companies." The novelty of the 332/2014 scheme compared with the old one is that the intensity has changed, added Craciun. If before it was 40 per cent in Bucharest and 50 per cent in the rest of the country, currently Bucharest has a ten to 15 per cent intensity, the west - 35 per cent and investments made in the rest of the country - 50 per cent.


---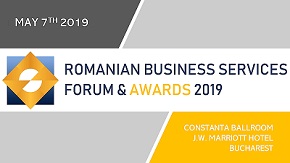 » Raiffeisen Bank Romania outsources onl...
» Horváth & Partners launches Steering ...
» JLL: Total office space in Bucharest t...
» Colliers International takes over the ...
» Oracle results pushed down by a strong...
» SSC in Romania. Who takes the lion's s...
» Survey: Romanians switch to a lower-pa...
» Genpact, Luxoft and Oracle, top lessee...
» Romanian employers report the stronges...
» Eucom: Nine out of ten corporate Roman...

My HR Lab: Research of suitable candidates and giving feedback to rejected ones, the biggest challenge in HR

During June 2019, My HR Lab company run an online (social media platforms) survey "Challenges of the recruitment process" which enrolled over 100 professionals working in HR and recruitment in Romania.
Read Full article »
The local market needs more added-value and complex projects to be developed by the companies

The statement has been uttered within this year's Romanian Outsourcing and Shared Services Summit by Catalina Dodu, Country Manager at Atos, pointing to the local enablers that could enhance the innovation and
Read Full article »
The office market at a glance: The round for tenants is on

Data provided by CBRE show that the office spaces segment will continue to grow rapidly in 2019, and 15 new projects covering 304.000 sqm will be delivered. According to the real estate consultancy agency, curr
Read Full article »
People Empowering Business Forum 2019 to take place on October, 30 at Bucharest

Latest trends like demographic upheaval, globalization, digital technology, and changing social values and worker expectations, are disrupting business models and radically changing the workplace. These are req
Read Full article »
Addressing the mantra of cyber-security: Confidentiality, integrity and availability

The fast advancement of technology in all the aspects of everyday life, either personal or professional, and the emerging of AI (Artificial Intelligence) and ML (Machine Learning), not to mention cloud technolo
Read Full article »