Administrative Assistant with Romanian, Molton Street Capital - London

A well-established financial services firm is looking for a recent graduate, fluent Romanian speaker to assist in exploring investment opportunities in Romania and to provide administrative/secretarial support to the sales and trading team.

We are a small firm and you will be working as part of a dynamic team.

You should be able to organise yourself efficiently, be highly motivated and ambitious, analytical, have strong computer skills (MS Word, MS Excel and MS Outlook), have excellent oral and written skills in both English and Romanian and other European language is a big plus.

This position is for a fixed 3 month term with a possibility of extension for the right candidate as the role has a potential for a career growth.

Whilst previous sales / accounting / administrative experience would be advantageous, we encourage all applicants with interest in finance and strong appetite to learn to apply.

Due to the high volume of enquiries that we receive, we are not always able to respond to all CVs. If you have not received a response within one week, please assume that your application has been unsuccessful in this instance.

Job Location:

London
Required experience:

Administration: 1 year
Required education:

Bachelor′s
Required language:

Romanian, English

---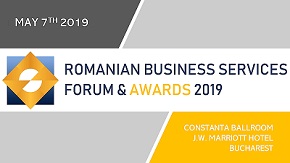 » The most appreciated companies from th...
» Webhelp Romania aiming for EUR 10 mill...
» Tremend joins Mellanox in powering the...
» The Outsourcing industry announces its...
» Manpower: Romania's labor market, more...
» Deloitte's Tech Trends 2019 report: B...
» Bucharest, in the top of cities in Eur...
» Oracle reaches 4,200 employees and pla...
» Genpact's COO: Staying ahead of the cu...
» Ascentis: The top ten HR trends for 20...

Nomination are now open for Romanian Business Services Forum and Awards

Nominations have opened for the prestigious Romanian Business Services Forum & Awards. The 2019 awards will continue to recognize and reinforce the important contribution made by business services professionals
Read Full article »
Study: 89 per cent of finance teams yet to embrace Artificial Intelligence

Report by Association of International Certified Professional Accountants and Oracle shows that almost 90 per cent of finance teams do not have the skills to support digital transformation.
Read Full article »
Bucharest, in the top of cities in Europe with the largest number of experts in high-tech industry

Bucharest is among the top cities boasting the most experts in the high-tech innovative industry, with over 70,000 current employees, next to London, Dublin, Madrid or Budapest, reads a study conducted by CBRE
Read Full article »
CBRE study: Post-millennials, the happiest about their offices
During 2018, real estate consultancy company CBRE conducted the first study dedicated to work environment in office buildings in Bucharest. The respondents have been structured in four age segments, such as Z g
Read Full article »
Deloitte's Tech Trends 2019 report: Beyond the digital frontier

The recently released Deloitte's Tech Trends 2019: Beyond the digital frontier, as each Tech Trends report in the series conducted by the consultancy company, lobbies for embracing the increasing, often mind-b
Read Full article »