Endava acquires Nickelfish to diversify its services

Enhancing its credentials in designing, building and running digital platforms for some of the world's leading companies, Endava announces the acquisition of Nickelfish, a New Jersey based UX and interactive design firm.

The acquisition now gives Endava the added capability of delivering Digital Strategy and User Experiences.

The result of the acquisition is a fully integrated end-to-end Digital Transformation Service that helps companies become digital businesses while keeping the end-to-end accountability (from strategy and UX through to the build and operation of the platform) with a single, global digital partner.

"This acquisition is in response to the market desperately needing partners to step up and assume end-to-end accountability for developing and delivering competitive digital business strategies with great user experiences that work seamlessly with the technology platforms they run on," said Endava CEO John Cotterell. "This demand combined with the expertise and great cultural fit of the Nickelfish team made this acquisition the obvious thing to do."

"We're incredibly excited by this opportunity as it will allow us to create great digital strategies and amazing user experiences that sit on top of world class technology platforms," said Nickelfish CEO Justin Marcucci. "This new, fully integrated organization will be able to deliver clients the insights, agility and continuous improvement required to keep them relevant and competitive in today's markets, while still focusing on the user and ensuring their experiences are second-to-none."
Global Digital Transformation Service

Endava is now positioned to unite the agendas of CMOs and CIOs, as its balance of digital strategy, user experience design and enterprise scale engineering will provide value to all users, both consumers and internal corporate staff alike. Endava's digital team will offer this service across all of its global markets and industries.

Endava is a privately owned IT services company with over 2,500 employees and offices in New York, Atlanta, New Jersey, London and Frankfurt and 6 delivery centers across Romania, Moldova, Macedonia, and Serbia.

Nickelfish, a New Jersey based UX and interactive design firm, provides digital strategy and end-to-end digital implementation services to some of the most recognized brands in the world operating primarily in the financial services, e-commerce, real estate, and hospitality sectors. Since its founding in 2002, the firm has completed 1,500 projects, significantly enhancing its branded clients' engagement with consumers and businesses alike.



---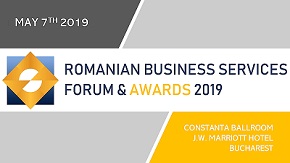 » Raiffeisen Bank Romania outsources onl...
» Horváth & Partners launches Steering ...
» JLL: Total office space in Bucharest t...
» Genpact, Luxoft and Oracle, top lessee...
» SSC in Romania. Who takes the lion's s...
» Oracle results pushed down by a strong...
» World-class HR organizations now spend...
» Romanian employers report the stronges...
» ROMANIAN OUTSOURCING AWARDS FOR EXCELL...
» Eucom: Nine out of ten corporate Roman...

My HR Lab: Research of suitable candidates and giving feedback to rejected ones, the biggest challenge in HR

During June 2019, My HR Lab company run an online (social media platforms) survey "Challenges of the recruitment process" which enrolled over 100 professionals working in HR and recruitment in Romania.
Read Full article »
The local market needs more added-value and complex projects to be developed by the companies

The statement has been uttered within this year's Romanian Outsourcing and Shared Services Summit by Catalina Dodu, Country Manager at Atos, pointing to the local enablers that could enhance the innovation and
Read Full article »
The office market at a glance: The round for tenants is on

Data provided by CBRE show that the office spaces segment will continue to grow rapidly in 2019, and 15 new projects covering 304.000 sqm will be delivered. According to the real estate consultancy agency, curr
Read Full article »
People Empowering Business Forum 2019 to take place on October, 30 at Bucharest

Latest trends like demographic upheaval, globalization, digital technology, and changing social values and worker expectations, are disrupting business models and radically changing the workplace. These are req
Read Full article »
Addressing the mantra of cyber-security: Confidentiality, integrity and availability

The fast advancement of technology in all the aspects of everyday life, either personal or professional, and the emerging of AI (Artificial Intelligence) and ML (Machine Learning), not to mention cloud technolo
Read Full article »