Endava acquires Nickelfish to diversify its services

Enhancing its credentials in designing, building and running digital platforms for some of the world's leading companies, Endava announces the acquisition of Nickelfish, a New Jersey based UX and interactive design firm.

The acquisition now gives Endava the added capability of delivering Digital Strategy and User Experiences.

The result of the acquisition is a fully integrated end-to-end Digital Transformation Service that helps companies become digital businesses while keeping the end-to-end accountability (from strategy and UX through to the build and operation of the platform) with a single, global digital partner.

"This acquisition is in response to the market desperately needing partners to step up and assume end-to-end accountability for developing and delivering competitive digital business strategies with great user experiences that work seamlessly with the technology platforms they run on," said Endava CEO John Cotterell. "This demand combined with the expertise and great cultural fit of the Nickelfish team made this acquisition the obvious thing to do."

"We're incredibly excited by this opportunity as it will allow us to create great digital strategies and amazing user experiences that sit on top of world class technology platforms," said Nickelfish CEO Justin Marcucci. "This new, fully integrated organization will be able to deliver clients the insights, agility and continuous improvement required to keep them relevant and competitive in today's markets, while still focusing on the user and ensuring their experiences are second-to-none."
Global Digital Transformation Service

Endava is now positioned to unite the agendas of CMOs and CIOs, as its balance of digital strategy, user experience design and enterprise scale engineering will provide value to all users, both consumers and internal corporate staff alike. Endava's digital team will offer this service across all of its global markets and industries.

Endava is a privately owned IT services company with over 2,500 employees and offices in New York, Atlanta, New Jersey, London and Frankfurt and 6 delivery centers across Romania, Moldova, Macedonia, and Serbia.

Nickelfish, a New Jersey based UX and interactive design firm, provides digital strategy and end-to-end digital implementation services to some of the most recognized brands in the world operating primarily in the financial services, e-commerce, real estate, and hospitality sectors. Since its founding in 2002, the firm has completed 1,500 projects, significantly enhancing its branded clients' engagement with consumers and businesses alike.



---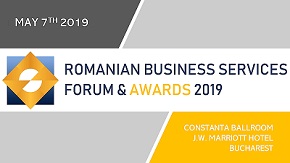 » The most appreciated companies from th...
» Webhelp Romania aiming for EUR 10 mill...
» Tremend joins Mellanox in powering the...
» Manpower: Romania's labor market, more...
» The Outsourcing industry announces its...
» Deloitte's Tech Trends 2019 report: B...
» Bucharest, in the top of cities in Eur...
» Oracle reaches 4,200 employees and pla...
» Genpact's COO: Staying ahead of the cu...
» Ascentis: The top ten HR trends for 20...

Nomination are now open for Romanian Business Services Forum and Awards

Nominations have opened for the prestigious Romanian Business Services Forum & Awards. The 2019 awards will continue to recognize and reinforce the important contribution made by business services professionals
Read Full article »
Study: 89 per cent of finance teams yet to embrace Artificial Intelligence

Report by Association of International Certified Professional Accountants and Oracle shows that almost 90 per cent of finance teams do not have the skills to support digital transformation.
Read Full article »
Bucharest, in the top of cities in Europe with the largest number of experts in high-tech industry

Bucharest is among the top cities boasting the most experts in the high-tech innovative industry, with over 70,000 current employees, next to London, Dublin, Madrid or Budapest, reads a study conducted by CBRE
Read Full article »
CBRE study: Post-millennials, the happiest about their offices
During 2018, real estate consultancy company CBRE conducted the first study dedicated to work environment in office buildings in Bucharest. The respondents have been structured in four age segments, such as Z g
Read Full article »
Deloitte's Tech Trends 2019 report: Beyond the digital frontier

The recently released Deloitte's Tech Trends 2019: Beyond the digital frontier, as each Tech Trends report in the series conducted by the consultancy company, lobbies for embracing the increasing, often mind-b
Read Full article »