Romania sees office investments worth 600 mln euro at 9M

Romania posts an investment level of 600 million euro worth of office buildings under construction for the first nine months (9M) of 2015, according to Jones Lang La Salle (JLL).

The Q3 preliminary volumes keep CEE on track for a record level of investment activity in 2015, states JLL.

The breakdown of preliminary volumes for Q1-Q3 2015 is being led by The Czech Republic, with about 2.4 billion euros investments, followed by Poland, with 1,55 billion, and Romania, with 60 million euro worth of investments into commercial properties.

The summer months have again seen a hive of activity across the CEE with a preliminary transaction volume of well over 2.8 billion euro recorded in the third quarter. This quarterly figure represents one of the strongest third quarters in the market's history and is only marginally short of the record breaking year of 2007. This activity brings the preliminary year-to-date regional investment volume to more than e5.5 billion euro and represents a 22% growth year on year.

Kevin Turpin, Head of Research CEE at JLL, commented: "With the final quarter of the year often representing one of the busiest periods for our investment teams, and looking at the pipeline of deals that are in advanced stages, we predict that the CEE regional volume could reach the €8 billion mark by the year end. Should the latter happen, it would put 2015 at the highest level since the economic downturn and third highest in the past 12 years".

The Czech Republic currently leads in terms of investment volumes with a share of 43% followed by Poland with 28%, Romania with 11%, Hungary with 10%, Slovakia with 2% and the SEE countries recording improved activity with a 6% share.
B.T.

---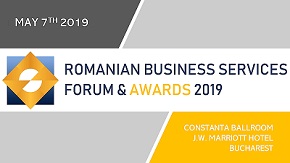 » Raiffeisen Bank Romania outsources onl...
» World-class HR organizations now spend...
» Oracle results pushed down by a strong...
» Sergiu Negut, on the stage of People i...
» Apostoleanu, Oracle: Human talent, mos...
» Bosch Service Solutions to grow 20% Ti...
» DTZ: Office demand outside Bucharest t...
» Wipro launches automotive center of ex...
» TELUS International: Chatbots - The pr...
» Microsoft and Oracle to interconnect M...

My HR Lab: Research of suitable candidates and giving feedback to rejected ones, the biggest challenge in HR

During June 2019, My HR Lab company run an online (social media platforms) survey "Challenges of the recruitment process" which enrolled over 100 professionals working in HR and recruitment in Romania.
Read Full article »
The local market needs more added-value and complex projects to be developed by the companies

The statement has been uttered within this year's Romanian Outsourcing and Shared Services Summit by Catalina Dodu, Country Manager at Atos, pointing to the local enablers that could enhance the innovation and
Read Full article »
The office market at a glance: The round for tenants is on

Data provided by CBRE show that the office spaces segment will continue to grow rapidly in 2019, and 15 new projects covering 304.000 sqm will be delivered. According to the real estate consultancy agency, curr
Read Full article »
People Empowering Business Forum 2019 to take place on October, 30 at Bucharest

Latest trends like demographic upheaval, globalization, digital technology, and changing social values and worker expectations, are disrupting business models and radically changing the workplace. These are req
Read Full article »
Addressing the mantra of cyber-security: Confidentiality, integrity and availability

The fast advancement of technology in all the aspects of everyday life, either personal or professional, and the emerging of AI (Artificial Intelligence) and ML (Machine Learning), not to mention cloud technolo
Read Full article »