Finance orgs drive higher value while spending more than 40 percent less

World-class finance organizations are far more responsive to business needs than their peers, driving greater value and agility while also spending more than 40 percent less and running with about half the staff, according to new research from The Hackett Group, Inc.

Overall, finance organizations continue to focus on redeploying resources away from transactional work towards higher-value activities to support innovation, growth, and greater agility, the research found. According to The Hackett Group′s research, world-class finance organizations are relying on three strategies to achieve operational excellence, drive higher value and improve agility: strengthening the foundations to enable agile service delivery; unleashing enterprise performance management (EPM) decision-making excellence; and building an adaptive finance organization.

"In today′s business world, finance needs to dramatically improve its agility, so that it can respond quickly to changes in the business environment and deliver greater value to the enterprise," said The Hackett Group Global Finance Advisory Program Practice Leader Jim O′Connor. "This is a significant challenge, and requires changes that don′t always come naturally to finance executives.

"At the same time, cost-cutting remains a primary focus for most finance organizations," said Mr. O′Connor. "At typical companies, there′s still significant room for opportunity here. Transformation efforts will have to be self-funded, and that means improving efficiency, largely by reducing costs in transactional areas."

According to The Hackett Group Principal and Finance Transformation Practice Leader Richard Cardillo, "We′re seeing many clients moving beyond thinking in terms of discrete projects, towards a continuous transformation mode that is both permanent and sustainable. One key to this is transformation management offices, which are in place at 80 percent of top performers. Typical companies rarely use these, and when they do they are far less robust. All top performers are also committing senior-level resources in transformation leadership roles. Finally, top performers see change management activities as vital to the success of their transformation, and rate their activities as far more effective than peers."

According to The Hackett Group′s research, world-class finance organizations now operate at 42 percent lower cost than typical companies, while achieving greater effectiveness. They also require 48 percent fewer full-time employees per billion dollars of revenue. By excelling at cost reduction, they achieve greater efficiency and deliver up to $44 million in savings annually (for a company with $10 billion in revenue). World-class finance organizations are those that achieve top-quartile performance in both efficiency and effectiveness, based on an array of weighted metrics in The Hackett Group′s finance benchmark.

The largest cost gaps between world-class and typical finance organizations are in transactional areas, including customer billing (85 percent gap), travel and expense (70 percent gap) and accounts payable (68 percent gap). Both world-class and typical finance organizations have cut costs by about 18 percent over the past decade. But world-class finance organizations appear to have found it difficult to maintain this level of cost reduction, and experienced a drop of only three percent over the past five years.

The Hackett Group′s research identified three key elements of finance strategy that world-class finance organizations rely on to drive higher value and greater agility.


---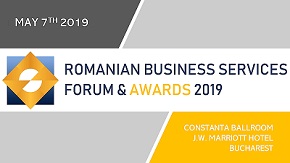 » Raiffeisen Bank Romania outsources onl...
» Horváth & Partners launches Steering ...
» JLL: Total office space in Bucharest t...
» Colliers International takes over the ...
» SSC in Romania. Who takes the lion's s...
» Oracle results pushed down by a strong...
» Survey: Romanians switch to a lower-pa...
» Genpact, Luxoft and Oracle, top lessee...
» Romanian employers report the stronges...
» Eucom: Nine out of ten corporate Roman...

My HR Lab: Research of suitable candidates and giving feedback to rejected ones, the biggest challenge in HR

During June 2019, My HR Lab company run an online (social media platforms) survey "Challenges of the recruitment process" which enrolled over 100 professionals working in HR and recruitment in Romania.
Read Full article »
The local market needs more added-value and complex projects to be developed by the companies

The statement has been uttered within this year's Romanian Outsourcing and Shared Services Summit by Catalina Dodu, Country Manager at Atos, pointing to the local enablers that could enhance the innovation and
Read Full article »
The office market at a glance: The round for tenants is on

Data provided by CBRE show that the office spaces segment will continue to grow rapidly in 2019, and 15 new projects covering 304.000 sqm will be delivered. According to the real estate consultancy agency, curr
Read Full article »
People Empowering Business Forum 2019 to take place on October, 30 at Bucharest

Latest trends like demographic upheaval, globalization, digital technology, and changing social values and worker expectations, are disrupting business models and radically changing the workplace. These are req
Read Full article »
Addressing the mantra of cyber-security: Confidentiality, integrity and availability

The fast advancement of technology in all the aspects of everyday life, either personal or professional, and the emerging of AI (Artificial Intelligence) and ML (Machine Learning), not to mention cloud technolo
Read Full article »