CIMA and The Hackett Group launched learning program for GBS and SSC

The Chartered Institute of Management Accountants (CIMA) and The Hackett Group, Inc. (NASDAQ: HCKT) today announced the first ever formal career development program for the Global Business Services (GBS) and Shared Services sector.

This follows the announcement of a strategic collaboration between both companies earlier this year. To further their collaboration and support of the GBS sector, CIMA and The Hackett Group are formalizing their partnership with the creation of a new professional body, the Association of Certified Global Business Services Professionals.

Building on the jointly-branded Global Business Services qualification launched in April, the program will introduce two new levels over the next year, each with a qualification and corresponding designation. At each level, the newly-developed syllabus teaches the skills and competencies required by employers to achieve the highest standards of excellence.

The three tiers will now be: the Certificate in Global Business Services (CGBS), available now, replacing the Global Business Services qualification; the Diploma in Global Business Services (DGBS) available in the summer of 2016, designed for those at a managerial level; and the Advanced Diploma in Global Business Services (ADGBS) available in the spring of 2016, for those at an executive level.

Participants in these programs will also have access to a new knowledge center, offering access to material such as case studies, frameworks, and performance metrics from The Hackett Group, CIMA, and other organizations. The knowledge center is designed to support participants through exams and life-long learning, with additional material unlocked as individuals complete certification at each level.

Ted Fernandez, Chairman and CEO of The Hackett Group, said "The GBS world is changing rapidly, moving beyond a focus on single functions and transactional work to offer an integrated approach to business services, and a focus on more knowledge-centric skills such as strategic thinking and analysis, data modelling, people management, and change management. Our new program is designed to help support that evolution, enabling GBS leaders to equip their staff with the skills and knowledge they need to succeed.

"These training programs provide value in a diverse array of ways," said Mr. Fernandez. "For GBS leaders, our training and certification offerings provide ammunition that can help them convince senior management that they are ready to take on more complex processes and more responsibility. These programs are also an excellent way for GBS organizations to recognize top performers, and improve retention of key staff. For GBS staff, this represents an exceptional opportunity for development, and to improve career mobility. Finally, our programs are an excellent way for outsourcers to differentiate themselves from the competition."

Charles Tilley FCMA, CGMA, Chief Executive of CIMA said "As the world′s largest and leading professional body of management accountants, CIMA supports members and students in 179 countries through our intensive and rigorous training, practical education and continuing professional development services. We are proud to be applying our expertise now to the GBS sector. GBS professionals need to have the right competencies and insight to provide the kind of sophisticated, strategic service that the sector is evolving towards. We have helped boards and management teams around the world bring together the information they need to inform strategy formation and execution and we will be supporting GBS organizations as they seek to do the same.

"Until now, GBS organizations and their employees have been unable to reach their full potential due to a lack of dedicated training. With this new stage in CIMA′s partnership with The Hackett Group, we are responding to this clear need. As the first and only organizations to deliver long-term education to the sector, we will help GBS professionals to attain and maintain world-class performance levels and ultimately, better enable and support the strategies of the businesses they serve."


---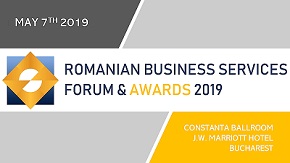 » Raiffeisen Bank Romania outsources onl...
» Oracle results pushed down by a strong...
» World-class HR organizations now spend...
» Microsoft and Oracle to interconnect M...
» Apostoleanu, Oracle: Human talent, mos...
» ANIS: Romanian IT market annual revenu...
» Healthcare IT outsourcing market is ex...
» Bosch Service Solutions to grow 20% Ti...
» Omnichannel: 4 pillars of a purposeful...
» The digitalization of the customer rel...

My HR Lab: Research of suitable candidates and giving feedback to rejected ones, the biggest challenge in HR

During June 2019, My HR Lab company run an online (social media platforms) survey "Challenges of the recruitment process" which enrolled over 100 professionals working in HR and recruitment in Romania.
Read Full article »
The local market needs more added-value and complex projects to be developed by the companies

The statement has been uttered within this year's Romanian Outsourcing and Shared Services Summit by Catalina Dodu, Country Manager at Atos, pointing to the local enablers that could enhance the innovation and
Read Full article »
The office market at a glance: The round for tenants is on

Data provided by CBRE show that the office spaces segment will continue to grow rapidly in 2019, and 15 new projects covering 304.000 sqm will be delivered. According to the real estate consultancy agency, curr
Read Full article »
People Empowering Business Forum 2019 to take place on October, 30 at Bucharest

Latest trends like demographic upheaval, globalization, digital technology, and changing social values and worker expectations, are disrupting business models and radically changing the workplace. These are req
Read Full article »
Addressing the mantra of cyber-security: Confidentiality, integrity and availability

The fast advancement of technology in all the aspects of everyday life, either personal or professional, and the emerging of AI (Artificial Intelligence) and ML (Machine Learning), not to mention cloud technolo
Read Full article »