CIMA and The Hackett Group launched learning program for GBS and SSC

The Chartered Institute of Management Accountants (CIMA) and The Hackett Group, Inc. (NASDAQ: HCKT) today announced the first ever formal career development program for the Global Business Services (GBS) and Shared Services sector.

This follows the announcement of a strategic collaboration between both companies earlier this year. To further their collaboration and support of the GBS sector, CIMA and The Hackett Group are formalizing their partnership with the creation of a new professional body, the Association of Certified Global Business Services Professionals.

Building on the jointly-branded Global Business Services qualification launched in April, the program will introduce two new levels over the next year, each with a qualification and corresponding designation. At each level, the newly-developed syllabus teaches the skills and competencies required by employers to achieve the highest standards of excellence.

The three tiers will now be: the Certificate in Global Business Services (CGBS), available now, replacing the Global Business Services qualification; the Diploma in Global Business Services (DGBS) available in the summer of 2016, designed for those at a managerial level; and the Advanced Diploma in Global Business Services (ADGBS) available in the spring of 2016, for those at an executive level.

Participants in these programs will also have access to a new knowledge center, offering access to material such as case studies, frameworks, and performance metrics from The Hackett Group, CIMA, and other organizations. The knowledge center is designed to support participants through exams and life-long learning, with additional material unlocked as individuals complete certification at each level.

Ted Fernandez, Chairman and CEO of The Hackett Group, said "The GBS world is changing rapidly, moving beyond a focus on single functions and transactional work to offer an integrated approach to business services, and a focus on more knowledge-centric skills such as strategic thinking and analysis, data modelling, people management, and change management. Our new program is designed to help support that evolution, enabling GBS leaders to equip their staff with the skills and knowledge they need to succeed.

"These training programs provide value in a diverse array of ways," said Mr. Fernandez. "For GBS leaders, our training and certification offerings provide ammunition that can help them convince senior management that they are ready to take on more complex processes and more responsibility. These programs are also an excellent way for GBS organizations to recognize top performers, and improve retention of key staff. For GBS staff, this represents an exceptional opportunity for development, and to improve career mobility. Finally, our programs are an excellent way for outsourcers to differentiate themselves from the competition."

Charles Tilley FCMA, CGMA, Chief Executive of CIMA said "As the world′s largest and leading professional body of management accountants, CIMA supports members and students in 179 countries through our intensive and rigorous training, practical education and continuing professional development services. We are proud to be applying our expertise now to the GBS sector. GBS professionals need to have the right competencies and insight to provide the kind of sophisticated, strategic service that the sector is evolving towards. We have helped boards and management teams around the world bring together the information they need to inform strategy formation and execution and we will be supporting GBS organizations as they seek to do the same.

"Until now, GBS organizations and their employees have been unable to reach their full potential due to a lack of dedicated training. With this new stage in CIMA′s partnership with The Hackett Group, we are responding to this clear need. As the first and only organizations to deliver long-term education to the sector, we will help GBS professionals to attain and maintain world-class performance levels and ultimately, better enable and support the strategies of the businesses they serve."


---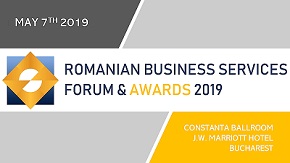 » Romania ranks above EU average in gend...
» The voting procedure for the BRAND OF ...
» Berg Software Romania: Reasons to outs...
» Deloitte's Tech Trends 2019 report: B...
» Steven Hunt, SAP SuccessFactors: Tecto...
» Molson Coors started to grow its busin...
» Societe Generale-European Business Ser...
» Capgemini: Investing in people is the ...
» Countries in CEE region, including Rom...
» Oracle reaches 4,200 employees and pla...

The voting procedure for the BRAND OF THE YEAR 2019 IN ROMANIAN BUSINESS SERVICES is open!

This is the fifth edition of the event and the second year to select the public's favorite brand in the business services BPO, ITO and SSC in Romania.
Read Full article »
Romania ranks above EU average in gender employment gap

In Romania, the employment rate measures the number of people who have a job as a percentage of the working age population. This page provides - Romania Employment Rate- actual values, historical data, forecast
Read Full article »
Steven Hunt, SAP SuccessFactors: Tectonic movements in the world of work

The world of work will be shaped by five tectonic movements – or global megatrends – over the next few years. As you may guess from the geological analogy, the effects could be dramatic.
Read Full article »
EY: European companies are divesting to future-proof growth

According to the EY Global Corporate Divestment Study, 84 per cent of European companies surveyed intending to divest within the next two years (the majority planning to do so in the coming 12 months), executiv
Read Full article »
Knowledge-sharing presentation on latest trends the industry deals, in the program of Romanian Business Services Forum and Awards

Part of the upcoming joint half-day event, Romanian Business Services Forum and Awards to be held at JW Marriott Hotel on May 7th, the discussion agenda comprises a complex Knowledge-sharing presentation on lat
Read Full article »