IBM & financial service industry sign threat intelligence exchange

IBM is working with the financial services industry to increase collaboration and worldwide sharing of cyber threat intelligence across industries and organisations, writes cbronline.com.

Members of the non-profit Financial Services Information Sharing and Analysis Center (FS-ISAC), will get access to advanced cyber threat research and analysis directly from IBM X-Force Exchange.
IBM X-Force Exchange is a threat intelligence sharing platform that can be used to research security threats, to aggregate intelligence, and to collaborate with peers.

IBM said that the FS-ISAC global membership has grown and the organisation is supporting other industry sharing organisations like Oil & Natural Gas sector (ONG-ISAC), Retail Sector (R-CISC), Legal Services sector (LS-ISAO) and others.

FS-ISAC global business services senior vice president Kris Herrin said: "FS-ISAC has experienced tremendous membership growth all over the world, and we are seeing cross-border and cross-sector sharing ramp up substantially.

"We are constantly looking for high value solutions and services to offer our members and our work with IBM Security will help us better utilise data and analytics to further automate information sharing with our global members."

IBM said that from now on IBM Security Services will support users of Soltra Edge within their own security operations environments.

Soltra Edge is a cyber threat intelligence sharing solution created by Soltra, which is a joint venture between The Depository Trust & Clearing Corporation (DTCC) and FS-ISAC.


---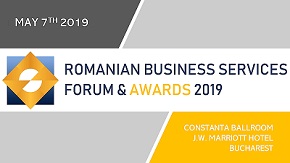 » Huawei opens a centre on cyber securit...
» ROMANIAN OUTSOURCING AWARDS FOR EXCELL...
» Romania ranks above EU average in gend...
» Bucharest, in the top of cities in Eur...
» Berg Software Romania: Reasons to outs...
» Meet the experts who will decide the w...
» Bogdan Pelinescu, president of ABSL: A...
» KPMG launches an application enabling ...
» ABSL GALA AWARDS celebrated its winner...
» Oracle reaches 4,200 employees and pla...

Colin C. Lovering: Meet the speakers at Romanian Business Services Forum & Awards 2019, on May 7

Colin C. Lovering has been living and working in Romania since 2009 when he arrived to offer consultancy and advice to organisations looking for growth and profitability and founded Achieve International.
Read Full article »
Antoniu Panait: Meet the speakers at Romanian Business Services Forum & Awards 2019, on May 7

Managing Director for VASTINT Romania since 2009, Antoniu Panait has an executive experience of more than 10 years, mainly in real estate.
Read Full article »
Andrei Voica: Meet the speakers at Romanian Business Services Forum & Awards 2019, on May 7

Andrei Voica, Director Project Management and Workplace Consultancy, Colliers International. Truly passionate about his work and always eager to add value to each project.
Read Full article »
Romulus Caralicea: Meet the speakers at Romanian Business Services Forum & Awards 2019, on May 7

Romulus is Wipro's Information Security, Risk & Compliance Lead for Europe. In his role he is managing internal audits and compliance activities for all clients and internal functions based on the corporate ISO
Read Full article »
George Didoiu: Meet the moderator of Romanian Business Services Forum 2019 CEO LEADERS DEBATE, on May 7

In his 15 years of real estate, George Didoiu advised on the relocation of top IT&C, finance-banking and consultancy companies, which total over 10,000 employees.
Read Full article »