Six reasons why you need a single cloud services provider

A single cloud services provider can deliver a committed, transparent offering which is beneficial for your business.

About 73% of enterprises would prefer to have a single committed cloud partner, either to manage relationships with other channel partners or as a single provider. We outline six important reasons why organisations have this preference, from innovation right through to resolutions, writes business2community.com.

A single cloud services provider can:

1. Free up your IT department to increase innovation
One of the advantages of the cloud is that it unburdens your IT department from managing hardware and lets them focus on directly contributing to business value. Worse than hardware troubles is having to deal with multiple SLAs from multiple vendors, each of which are using different technologies, interfaces and jargon.
That is where the cloud stops being a boon and becomes a bane. A single cloud service partner saves you the headache of multiple vendor management and frees up your IT department's ability to innovate.

2. Ease responsibility away from a single employee
You can have the best portfolio of cloud providers in the world, but if something goes wrong with your network, do they care? And what about infrastructure-wide concerns, such as disaster recovery (DR)? With multiple providers do you have a DR plan for each, or try to synthesize them all into one?
Unless integration – and accountability – are consistent across your whole system, you can always run into problems. A single provider that takes full responsibility for both hosting and networking can guarantee the quality of service across your whole infrastructure.

3. Resolve problems easily
With several cloud providers you don't get a full service wrap – nor the reassurance of end-to-end responsibility. If something goes wrong, who do you go to? The different parts of your cloud are disjointed. With a single service provider, you have a single point of contact at all times – someone who is fully accountable.
Whether you're migrating and on-boarding, scaling infrastructure, or managing applications – you know who to turn to. And you even get to avoid all that running around as each provider blames the other!

4. Fluency and interoperability
Co-ordinating business services and resources is a tightrope walk at the best of times. With different cloud providers there is not necessarily any standardization and no guarantee that their services will easily integrate with each other.
Why not guarantee integration capability between the different parts of your infrastructure? This makes it much easier for employees to collaborate, e.g. if your different communications services – email, voice, IM – are all looked after jointly they will sync seamlessly. Not to mention security and compliance concerns when sharing applications and sensitive data across different services.

5. Overall costs are lower
Let's get back to basics: it will save you money. It's cheaper to bundle services from a single provider. Your finance team spends less time reconciling budgets. Your employees are more efficient: they don't have log-in problems, it's easier for them to integrate new services as your business grows and they spend less time service managing multiple patches and upgrades across multiple portals. And don't forget that you also save on staff costs in your IT department. Infrastructure expertise is taken care of by the experts, letting you focus on growing your business.

6. Trust and Reliability
Sometimes commentators justify having a single service provider with the somewhat disconcerting incentive of having a 'single throat to choke'. But is this really the best we can do? Having a single place to direct your anger?! You need a holistic solution delivered with trust and reliability: from initial consultancy and solution design, to service management, network management and additional services delivered as the cherry on top.

Takeaways:
Single cloud service providers can offer you a variety of benefits, including:
Massive cost efficiencies, as money is saved on cheaper bundles and takes the burden off your IT department, improved interoperability, as a single provider can coordinate your services and synchronize them and opportunities for your IT team to focus on innovating rather than simply keeping the lights on.


---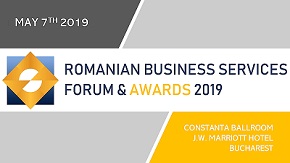 » Huawei opens a centre on cyber securit...
» ROMANIAN OUTSOURCING AWARDS FOR EXCELL...
» Romania ranks above EU average in gend...
» Bucharest, in the top of cities in Eur...
» Berg Software Romania: Reasons to outs...
» Meet the experts who will decide the w...
» Bogdan Pelinescu, president of ABSL: A...
» KPMG launches an application enabling ...
» ABSL GALA AWARDS celebrated its winner...
» Oracle reaches 4,200 employees and pla...

Colin C. Lovering: Meet the speakers at Romanian Business Services Forum & Awards 2019, on May 7

Colin C. Lovering has been living and working in Romania since 2009 when he arrived to offer consultancy and advice to organisations looking for growth and profitability and founded Achieve International.
Read Full article »
Antoniu Panait: Meet the speakers at Romanian Business Services Forum & Awards 2019, on May 7

Managing Director for VASTINT Romania since 2009, Antoniu Panait has an executive experience of more than 10 years, mainly in real estate.
Read Full article »
Andrei Voica: Meet the speakers at Romanian Business Services Forum & Awards 2019, on May 7

Andrei Voica, Director Project Management and Workplace Consultancy, Colliers International. Truly passionate about his work and always eager to add value to each project.
Read Full article »
Romulus Caralicea: Meet the speakers at Romanian Business Services Forum & Awards 2019, on May 7

Romulus is Wipro's Information Security, Risk & Compliance Lead for Europe. In his role he is managing internal audits and compliance activities for all clients and internal functions based on the corporate ISO
Read Full article »
George Didoiu: Meet the moderator of Romanian Business Services Forum 2019 CEO LEADERS DEBATE, on May 7

In his 15 years of real estate, George Didoiu advised on the relocation of top IT&C, finance-banking and consultancy companies, which total over 10,000 employees.
Read Full article »