Six reasons why you need a single cloud services provider

A single cloud services provider can deliver a committed, transparent offering which is beneficial for your business.

About 73% of enterprises would prefer to have a single committed cloud partner, either to manage relationships with other channel partners or as a single provider. We outline six important reasons why organisations have this preference, from innovation right through to resolutions, writes business2community.com.

A single cloud services provider can:

1. Free up your IT department to increase innovation
One of the advantages of the cloud is that it unburdens your IT department from managing hardware and lets them focus on directly contributing to business value. Worse than hardware troubles is having to deal with multiple SLAs from multiple vendors, each of which are using different technologies, interfaces and jargon.
That is where the cloud stops being a boon and becomes a bane. A single cloud service partner saves you the headache of multiple vendor management and frees up your IT department's ability to innovate.

2. Ease responsibility away from a single employee
You can have the best portfolio of cloud providers in the world, but if something goes wrong with your network, do they care? And what about infrastructure-wide concerns, such as disaster recovery (DR)? With multiple providers do you have a DR plan for each, or try to synthesize them all into one?
Unless integration – and accountability – are consistent across your whole system, you can always run into problems. A single provider that takes full responsibility for both hosting and networking can guarantee the quality of service across your whole infrastructure.

3. Resolve problems easily
With several cloud providers you don't get a full service wrap – nor the reassurance of end-to-end responsibility. If something goes wrong, who do you go to? The different parts of your cloud are disjointed. With a single service provider, you have a single point of contact at all times – someone who is fully accountable.
Whether you're migrating and on-boarding, scaling infrastructure, or managing applications – you know who to turn to. And you even get to avoid all that running around as each provider blames the other!

4. Fluency and interoperability
Co-ordinating business services and resources is a tightrope walk at the best of times. With different cloud providers there is not necessarily any standardization and no guarantee that their services will easily integrate with each other.
Why not guarantee integration capability between the different parts of your infrastructure? This makes it much easier for employees to collaborate, e.g. if your different communications services – email, voice, IM – are all looked after jointly they will sync seamlessly. Not to mention security and compliance concerns when sharing applications and sensitive data across different services.

5. Overall costs are lower
Let's get back to basics: it will save you money. It's cheaper to bundle services from a single provider. Your finance team spends less time reconciling budgets. Your employees are more efficient: they don't have log-in problems, it's easier for them to integrate new services as your business grows and they spend less time service managing multiple patches and upgrades across multiple portals. And don't forget that you also save on staff costs in your IT department. Infrastructure expertise is taken care of by the experts, letting you focus on growing your business.

6. Trust and Reliability
Sometimes commentators justify having a single service provider with the somewhat disconcerting incentive of having a 'single throat to choke'. But is this really the best we can do? Having a single place to direct your anger?! You need a holistic solution delivered with trust and reliability: from initial consultancy and solution design, to service management, network management and additional services delivered as the cherry on top.

Takeaways:
Single cloud service providers can offer you a variety of benefits, including:
Massive cost efficiencies, as money is saved on cheaper bundles and takes the burden off your IT department, improved interoperability, as a single provider can coordinate your services and synchronize them and opportunities for your IT team to focus on innovating rather than simply keeping the lights on.


---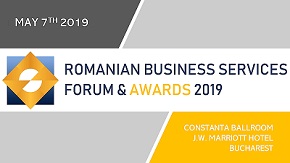 » A people-centred business
» Isarescu: Economy will grow above pote...
» CBRE: Bucharest will witness a fivefol...
» Delphi Technologies inaugurates global...
» Technology, Mobility and Wellness make...
» Meet the winners of ROMANIAN BUSINESS ...
» The Renaissance of Outsourcing
» UBB and IT Cluster Cluj brought 450 st...
» UK: Outsourcing is leaving public sect...
» EXCLUSIVE: ABSL Timisoara - BPO and SS...

Workplace of the Future conference to take place on November 20th at Bucharest

The Diplomat-Bucharest together with Outsourcing Today organize the 3rd Edition of WORKPLACE OF THE FUTURE, on 20th of November 2019, in Bucharest, at Capital Plaza Hotel.
Read Full article »
Strategic Talent Acquisition at People Empowering Business Forum on October 30 in Bucharest

Latest trends like demographic upheaval, globalization, digital technology, and changing social values and worker expectations, are disrupting business models and radically changing the workplace. These are req
Read Full article »
Informal IT School and UiPath launch an educational program for RPA development to start in October

Informal IT School announced a partnership with UiPath to launch an RPA development educational program of five months, 100 hours of courses, five days a week. The program will run in Cluj-Napoca.
Read Full article »
Impact Hub Bucharest joins 3house to manage three coworking spaces in the city

Impact Hub Bucharest, a coworking spaces manager and developer of accelerator programs and events merged with 3house, a new concept of workplace launched in 2018. By this, Impact Hub reaches 3 locations and 6.7
Read Full article »
JLL: Total office space in Bucharest to reach 3 million sqm

The second quarter of 2019 reconfirmed the increased interest for the office market in Romania. Over 115,000 square meters of office space were leased over this period at the national level, a value similar wit
Read Full article »