Take a closer look at your competition

Typically, when faced with this question, we list those companies that offer similar product and services. Most of these competitors are brick and mortar companies. The landscape is changing and more and more companies are seeing big returns online. Inbound marketing is taking off and companies need to find ways to bring people to their content, writes Brent Pohlman for http://www.business2community.com.

However, there might be new competition out there that we should be looking at.
Smaller startups who are working with advanced technology – Keep your eye out for these type of companies and don't lose sight of them. Many in your company will discredit their ability to gain an audience. However, you don't have look back too far to see how some companies have been able to take business away from established companies in a time frame of less than five years.

Great Inbound Companies – These companies are drawing quite an audience online and have figured out a way to reach people on their mobile devices. The competition for brand awareness is getting tighter and tighter. It is critical to always make sure you are working toward a better online presence with your website and supporting social media.

Your employees – Are your employees working for you or against you? Today, the only way for people to move up in their career is to leave there current position and work for a competing firm. Always be mindful of your best talent and make sure you look at their goals and intentions for the future. Are you involving your employees in your decision-making. Those company leaders who listen to their workers and give them credit for their ideas are the new leaders of today.

Your clients – Right now the clients you work with are your friend as long as you are listening and serving their needs. Make sure you do not get too complacent here, because your current clients have many choices and all it takes is a new leader who takes over a company and has a relationship at a competing company. Your company may not have done anything wrong. It was more about the new leader's relationships. Conagra comes to mind in this example.

Your technology team – Does your company have an infrastructure in place for growth? Technology is changing all the time. Does your company have technology in place to facilitate future growth? Are your employees looking at ways to better manage and improve current business processes. Are the technical people on board with your initiatives. Today's businesses need to be working closely with their IT teams to insure they can continue to meet client needs, (internal and external).

Your upper management – Do they have the leadership and vision to take your company to the next level with respect to business in the information age? Many solid business owners and executives take the time to look at the changing business landscape and new technology being introduced regularly. Make sure you work at a company that values growing and learning over protecting and maintaining. Every company can grow. However, not every company will make it going forward.

Competition – You might think this is a strong word to use when describing each of these groups. In today's world of mergers, buyouts, layoffs, startups, lawsuits, it is more imperative than other to treat everyone like your client. As a marketer, you know the importance of relationships. In each one of these groups, it is all about working together and having key people in these groups. If these groups are not working with you, they are working against you.

The next time someone asks you who your competition is. Tell them, I work everyday to insure I am meeting the needs of my clients. If I focus on clients first, then I am in a better place to handle the competition.

Brent Pohlman is the Marketing Director at Midwest Laboratories.


---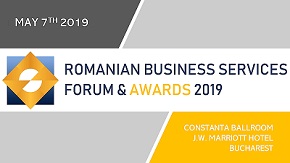 » Huawei opens a centre on cyber securit...
» Romania ranks above EU average in gend...
» ROMANIAN OUTSOURCING AWARDS FOR EXCELL...
» Bucharest, in the top of cities in Eur...
» Meet the experts who will decide the w...
» Bogdan Pelinescu, president of ABSL: A...
» Berg Software Romania: Reasons to outs...
» KPMG launches an application enabling ...
» ABSL GALA AWARDS celebrated its winner...
» George Rotariu, CEO Bitcoin Romania: B...

Meet the speakers at Romanian Business Services Forum 2019 CEO LEADERS DEBATE, on May 7th - Matthieu Pasquier

Matthieu Pasquier is CEO of Societe Generale European Business Services since August 2018 bringing more than 27 years experience in Societe Generale group. During 2014-2018, Matthieu was Head of SG GSC Chennai
Read Full article »
Sorin Mindrutescu among the speakers at Romanian Business Services Forum 2019 CEO LEADERS DEBATE, on May 7th

Sorin Mindrutescu is the Country Leader for Oracle Romania, as of February 2003. In this role, he is responsible for local sales and project delivery. In Romania, Oracle has two major business directions: the l
Read Full article »
Meet the speakers at Romanian Business Services Forum 2019 CEO LEADERS DEBATE, on May 7th - Vivek Bakshi

Vivek Bakshi is the General Manager of Wipro Technologies. He has spent 12 years heading the International Locations / Delivery Centers Europe from the Bucharest office.
Read Full article »
Meet the finalists of the fifth edition of Romanian Business Services Awards 2019

ROMANIAN BUSINESS SERVICES FORUM & AWARDS 2019, in its fifth year, brings on May 7, in Bucharest, a new concept event with engaging keynote sessions by industry leaders, interactive panel discussions, networkin
Read Full article »
Meet the experts who will decide the winners of 2019 at Romanian Business Services Forum & Awards

Each year, Outsourcing Today brings a landmark edition of the Romanian Outsourcing and Shared Services Summit and this year, we are hosting the Fifth of the annual Romanian Outsourcing and Shared Services Award
Read Full article »