Tellence doubled the number of customers in 2015

The outsourcing company Tellence Technologies posted in the first half of 2015 a turnover of 1.7 million euro and announced that it increased its activity recording double the number of customers and a 50% increase in turnover.

Customers in the Automotive, E-Learning and Big Data Processing are the most active in Tellence portfolio lately.

"Most new customers come from the fields of Automotive, E-Learning and Big Data Processing but there are signs that there is an interest also from companies in the Security, for which we estimate a demand increasingly higher in the near future, for which we will start a recruitment process.Outsourcing market is currently the fastest growing segment of hiring, Tellence having at this moment about 20 software developers jobs open and in 2016 we could increase the team by 30%," says Leo Radu, managing partner at Tellence Technologies.

Tellence has witnessed a steady development in a fast pace from the beginning until today.
Last year, the turnover of Tellence Technologies was of about 2.1 million euros, while the 2013 Tellence recorded total revenue of 1.5 million euro and in 2012 the company achieved revenues of 280,000 euro.

Industries covered by Tellence on outsourcing services in Romania include telecommunications, security and automotive.


---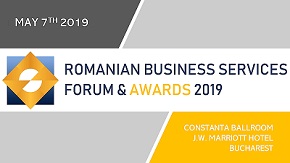 » The most appreciated companies from th...
» Webhelp Romania aiming for EUR 10 mill...
» Tremend joins Mellanox in powering the...
» Manpower: Romania's labor market, more...
» The Outsourcing industry announces its...
» Deloitte's Tech Trends 2019 report: B...
» Bucharest, in the top of cities in Eur...
» Oracle reaches 4,200 employees and pla...
» Genpact's COO: Staying ahead of the cu...
» Ascentis: The top ten HR trends for 20...

Nomination are now open for Romanian Business Services Forum and Awards

Nominations have opened for the prestigious Romanian Business Services Forum & Awards. The 2019 awards will continue to recognize and reinforce the important contribution made by business services professionals
Read Full article »
Study: 89 per cent of finance teams yet to embrace Artificial Intelligence

Report by Association of International Certified Professional Accountants and Oracle shows that almost 90 per cent of finance teams do not have the skills to support digital transformation.
Read Full article »
Bucharest, in the top of cities in Europe with the largest number of experts in high-tech industry

Bucharest is among the top cities boasting the most experts in the high-tech innovative industry, with over 70,000 current employees, next to London, Dublin, Madrid or Budapest, reads a study conducted by CBRE
Read Full article »
CBRE study: Post-millennials, the happiest about their offices
During 2018, real estate consultancy company CBRE conducted the first study dedicated to work environment in office buildings in Bucharest. The respondents have been structured in four age segments, such as Z g
Read Full article »
Deloitte's Tech Trends 2019 report: Beyond the digital frontier

The recently released Deloitte's Tech Trends 2019: Beyond the digital frontier, as each Tech Trends report in the series conducted by the consultancy company, lobbies for embracing the increasing, often mind-b
Read Full article »