SSC in Romania. Who takes the lion's share?

As the need for Shared Services Centres (SSCs) increases year-on-year globally, Romania holds the door open for investors and confidently invites them in. Alexandra Lopotaru talked to important players in the industry to find out why, how and where they took a seat

Romania is seen as a top destination for business services, as it offers on one plate a mix of competitive economic environment and a multilingual skilled workforce at low cost. Various studies place Romania ninth globally and second in CEE as a preferred destination for companies operating in the business service industry, one of the most dynamic sectors in the economy. Despite the economic crisis, average growth rate over the last few years has been over 20 per cent annually and a further growth of over 30 per cent is expected in the upcoming period.

Currently, the business services sector is estimated at 60,000 employees and 1.2 billion Euro, according to the leading organization of local industry ABSL (Association of Business Services Leaders), with half of the market being held by Share Service Centres (SSC). Last year the segment saw a lot of activity in terms of SSC players, both through the capacity expansion of existing companies and the entry of new investors. Kellogg′s, for example, the American food manufacturing giant, announced last summer that it would transfer jobs from the UK to Romania, in order to create a business services centre in Bucharest, generating jobs in different areas such as HR, IT, finance and distribution. The centre is designed to support Kellogg′s European divisions in over 20 countries, with 80 employees, according to local media.
Another important entry is Vodafone, launching in May last year a shared services centre in Bucharest, to provide IT and customer support services for Vodafone operations in the UK, Germany, Italy, Spain and Ireland. While last July it had a little over 100 employees, the centre is projected to reach more than 2,000 over the next three years. Furthermore, Germany′s DB Schenker decided last year to develop a SSC for the financial departments of several subsidiaries; Deutsche Bank has invested ten million Euro in Romania in a technological centre that produces software for the bank; while German insurance group Allianz, leased in Bucharest′s Floreasca Park office space, plans to develop a service centre.

The increase of the sector was seen at existing companies as well: Societe Generale European Business Services (SG EBS), opened in 2011 in Bucharest, doubled its headcount last year to 400 people, while Office Depot, Cluj-Napoca′s first SSC opened in 2007, increased its workforce by eight per cent to 485 people. This year the trend continues with Huawei GSC hiring more than 200 people by the end of 2015, and with other players with equally-ambitious plans.
The Diplomat - Bucharest spoke with such major SSC players to analyse the way the Romanian services market plans to develop further, to stress the concerns and challenges they must face, as well as to highlight their business perspectives for the coming years.

Huawei plans to open a secondary centre when Bucharest′s GSC exceeds 1,000 employees

---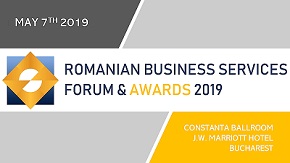 » Raiffeisen Bank Romania outsources onl...
» Horváth & Partners launches Steering ...
» JLL: Total office space in Bucharest t...
» Genpact, Luxoft and Oracle, top lessee...
» SSC in Romania. Who takes the lion's s...
» Oracle results pushed down by a strong...
» World-class HR organizations now spend...
» Romanian employers report the stronges...
» ROMANIAN OUTSOURCING AWARDS FOR EXCELL...
» Eucom: Nine out of ten corporate Roman...

My HR Lab: Research of suitable candidates and giving feedback to rejected ones, the biggest challenge in HR

During June 2019, My HR Lab company run an online (social media platforms) survey "Challenges of the recruitment process" which enrolled over 100 professionals working in HR and recruitment in Romania.
Read Full article »
The local market needs more added-value and complex projects to be developed by the companies

The statement has been uttered within this year's Romanian Outsourcing and Shared Services Summit by Catalina Dodu, Country Manager at Atos, pointing to the local enablers that could enhance the innovation and
Read Full article »
The office market at a glance: The round for tenants is on

Data provided by CBRE show that the office spaces segment will continue to grow rapidly in 2019, and 15 new projects covering 304.000 sqm will be delivered. According to the real estate consultancy agency, curr
Read Full article »
People Empowering Business Forum 2019 to take place on October, 30 at Bucharest

Latest trends like demographic upheaval, globalization, digital technology, and changing social values and worker expectations, are disrupting business models and radically changing the workplace. These are req
Read Full article »
Addressing the mantra of cyber-security: Confidentiality, integrity and availability

The fast advancement of technology in all the aspects of everyday life, either personal or professional, and the emerging of AI (Artificial Intelligence) and ML (Machine Learning), not to mention cloud technolo
Read Full article »