SSC in Romania. Who takes the lion's share?

As the need for Shared Services Centres (SSCs) increases year-on-year globally, Romania holds the door open for investors and confidently invites them in. Alexandra Lopotaru talked to important players in the industry to find out why, how and where they took a seat

Romania is seen as a top destination for business services, as it offers on one plate a mix of competitive economic environment and a multilingual skilled workforce at low cost. Various studies place Romania ninth globally and second in CEE as a preferred destination for companies operating in the business service industry, one of the most dynamic sectors in the economy. Despite the economic crisis, average growth rate over the last few years has been over 20 per cent annually and a further growth of over 30 per cent is expected in the upcoming period.

Currently, the business services sector is estimated at 60,000 employees and 1.2 billion Euro, according to the leading organization of local industry ABSL (Association of Business Services Leaders), with half of the market being held by Share Service Centres (SSC). Last year the segment saw a lot of activity in terms of SSC players, both through the capacity expansion of existing companies and the entry of new investors. Kellogg′s, for example, the American food manufacturing giant, announced last summer that it would transfer jobs from the UK to Romania, in order to create a business services centre in Bucharest, generating jobs in different areas such as HR, IT, finance and distribution. The centre is designed to support Kellogg′s European divisions in over 20 countries, with 80 employees, according to local media.
Another important entry is Vodafone, launching in May last year a shared services centre in Bucharest, to provide IT and customer support services for Vodafone operations in the UK, Germany, Italy, Spain and Ireland. While last July it had a little over 100 employees, the centre is projected to reach more than 2,000 over the next three years. Furthermore, Germany′s DB Schenker decided last year to develop a SSC for the financial departments of several subsidiaries; Deutsche Bank has invested ten million Euro in Romania in a technological centre that produces software for the bank; while German insurance group Allianz, leased in Bucharest′s Floreasca Park office space, plans to develop a service centre.

The increase of the sector was seen at existing companies as well: Societe Generale European Business Services (SG EBS), opened in 2011 in Bucharest, doubled its headcount last year to 400 people, while Office Depot, Cluj-Napoca′s first SSC opened in 2007, increased its workforce by eight per cent to 485 people. This year the trend continues with Huawei GSC hiring more than 200 people by the end of 2015, and with other players with equally-ambitious plans.
The Diplomat - Bucharest spoke with such major SSC players to analyse the way the Romanian services market plans to develop further, to stress the concerns and challenges they must face, as well as to highlight their business perspectives for the coming years.

Huawei plans to open a secondary centre when Bucharest′s GSC exceeds 1,000 employees

---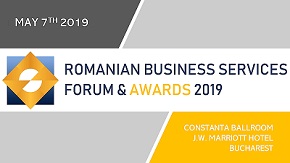 » Huawei opens a centre on cyber securit...
» Romania ranks above EU average in gend...
» ROMANIAN OUTSOURCING AWARDS FOR EXCELL...
» Bucharest, in the top of cities in Eur...
» Meet the experts who will decide the w...
» Bogdan Pelinescu, president of ABSL: A...
» Berg Software Romania: Reasons to outs...
» KPMG launches an application enabling ...
» ABSL GALA AWARDS celebrated its winner...
» George Rotariu, CEO Bitcoin Romania: B...

Meet the speakers at Romanian Business Services Forum 2019 CEO LEADERS DEBATE, on May 7th - Matthieu Pasquier

Matthieu Pasquier is CEO of Societe Generale European Business Services since August 2018 bringing more than 27 years experience in Societe Generale group. During 2014-2018, Matthieu was Head of SG GSC Chennai
Read Full article »
Sorin Mindrutescu among the speakers at Romanian Business Services Forum 2019 CEO LEADERS DEBATE, on May 7th

Sorin Mindrutescu is the Country Leader for Oracle Romania, as of February 2003. In this role, he is responsible for local sales and project delivery. In Romania, Oracle has two major business directions: the l
Read Full article »
Meet the speakers at Romanian Business Services Forum 2019 CEO LEADERS DEBATE, on May 7th - Vivek Bakshi

Vivek Bakshi is the General Manager of Wipro Technologies. He has spent 12 years heading the International Locations / Delivery Centers Europe from the Bucharest office.
Read Full article »
Meet the finalists of the fifth edition of Romanian Business Services Awards 2019

ROMANIAN BUSINESS SERVICES FORUM & AWARDS 2019, in its fifth year, brings on May 7, in Bucharest, a new concept event with engaging keynote sessions by industry leaders, interactive panel discussions, networkin
Read Full article »
Meet the experts who will decide the winners of 2019 at Romanian Business Services Forum & Awards

Each year, Outsourcing Today brings a landmark edition of the Romanian Outsourcing and Shared Services Summit and this year, we are hosting the Fifth of the annual Romanian Outsourcing and Shared Services Award
Read Full article »