Opinion, Dan Zaharia: The office buildings become the new factories of Iasi

The office buildings are becoming the new factories of Iasi, the software and outsourcing factories for the entire community in the city.

In order to satisfy the potential demand on the office market, office buildings are already appearing in Iasi, offices emerging from reconversions of residential apartment buildings and hotels (e.g. UBC3 and 4), multistory commercial centers (Moldova Center), auto showrooms (Tester 1), old fabric plants (Tesatura), administrative buildings (e.g. Nicolina Business Center) or, most recently, multiplex cinemas (Palas-UBC6). These reconversions require massive investments. However, their central location makes the return of investment possible in a reasonable time frame of 10 to 12 years. What is needed is the scalability of the office stock, as the current market players are developing exponentially by attracting new international clients.

Presently, there are only three building in Iasi that have a surface per level that exceeds 2.000 square meters (IDEO, Moldova Center and UBC3). Many international companies are requiring surfaces between 800-3000 square meters per level for a better building of the flows, of the departments and of the connecting subdivisions (e.g. conference halls, dining room, relaxation room, etc.). In parallel, the possibility of decreasing the number of levels that a company rents in a building leads to decreasing costs with the administrative staff (reception, security), with the IT infrastructure (server rooms, cables, etc.), but also decreasing transit time between departments/functions. Access control and data security are also factors to consider.

According to a recent study by DTZ, Iasi owns a stock of 142.000 square meters of office buildings. The problem is the granularity of this stock, because there are up to ten office buildings that have surfaces to rent of over 5.000 square meters, the rest having total surfaces of 500-2.000 square meters.

One can already foresee three big development areas of the future modern office buildings:
-CBD (Central Business District): the buildings in the area Sf. Lazar, Str.Palat, Sos.Nationala, Splai Bahlui, where the traffic and parking lots become congested.
-West Zone: the area Pacurari and exit towards the beltway, easy accessible from the new residential neighbourhoods in the metropolitan area of Iasi.
-The Industrial East Zone: contains the platforms Nicolina, Tesatura, Tester, Ispal, Terom and extends up to Tatarasi and is limited by the Technical University and the student campus.

The reduced size of the majority of the office buildings in Iasi stems from the fact that the investments have been realized without a prior market research, from the low funding level from the banking system in crisis in 2008-2011, from the lack of experience of the investors, from accessing European funds that come with certain limitations. We don't have yet that many start-ups that we could host in these buildings. The wave coming towards us is a "giants" one, a wave that starts from 2.000 square meter offices in the first year, but that tends towards 5.000-10.000 square meters for a single company, all in one single building.

What will be needed are technological parks with 3-5 office buildings of minimum 2.000 square meters per level and a surface to rent of minimum 10.000 square meters each, with generous parking spaces, well connected to public transportation and to bicycle lanes, all projected from the beginning to uphold the international standards for green buildings (LEED, BREEAM, etc.).

For this last aspect of green buildings, lobbying to the local and regional administrative level will be necessary, in order to adopt a number of support measures already implemented successfully in other cities (e.g. Cluj-Napoca, Timisoara) with the help of RoGBC (The Romanian Council for Green Buildings), that have a branch in Iasi-RoGBC Moldova-since the beginning of the year.

---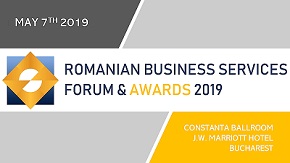 » Huawei opens a centre on cyber securit...
» ROMANIAN OUTSOURCING AWARDS FOR EXCELL...
» Romania ranks above EU average in gend...
» Bucharest, in the top of cities in Eur...
» Meet the experts who will decide the w...
» Berg Software Romania: Reasons to outs...
» KPMG launches an application enabling ...
» Bogdan Pelinescu, president of ABSL: A...
» ABSL GALA AWARDS celebrated its winner...
» George Rotariu, CEO Bitcoin Romania: B...

Catalina Dodu - Meet the speakers at Romanian Business Services Forum 2019 CEO LEADERS DEBATE, on May 7

Catalina Dodu runs the operations of Atos Romania since March 2014, with an experience of over 15 years in IT management. Previous to being appointed Country Manager, Catalina managed the System Integration div
Read Full article »
Philippe Beucher: Meet the speakers at Romanian Business Services Forum 2019 CEO LEADERS DEBATE, on May 7

Philippe Beucher is the Managing Director of Accenture Operations – Danubia Region, leading the Operations entity for Romania, Czech Republic, Slovakia and Hungary starting from February 2019. For the past 1
Read Full article »
Meet the speakers at Romanian Business Services Forum 2019 CEO LEADERS DEBATE, on May 7th - Matthieu Pasquier

Matthieu Pasquier is CEO of Societe Generale European Business Services since August 2018 bringing more than 27 years experience in Societe Generale group. During 2014-2018, Matthieu was Head of SG GSC Chennai
Read Full article »
Sorin Mindrutescu among the speakers at Romanian Business Services Forum 2019 CEO LEADERS DEBATE, on May 7th

Sorin Mindrutescu is the Country Leader for Oracle Romania, as of February 2003. In this role, he is responsible for local sales and project delivery. In Romania, Oracle has two major business directions: the l
Read Full article »
Meet the speakers at Romanian Business Services Forum 2019 CEO LEADERS DEBATE, on May 7th - Vivek Bakshi

Vivek Bakshi is the General Manager of Wipro Technologies. He has spent 12 years heading the International Locations / Delivery Centers Europe from the Bucharest office.
Read Full article »