The Renaissance of Outsourcing

Outsourcing's Renaissance is a fresh concept emerging on the local market, referring to a shift of paradigms in patterns of doing business. In past years, together with the ceaseless newly-launching technologies in the IT&C sector, outsourcing closely followed this development trend and it is no wonder that Romania is now one of Europe's most-sought destinations for business services investors, such as BPO, ITO or SSC segments,

As a natural move to follow the market′s voice and needs, The Diplomat - Bucharest, the English-language business magazine, organized the first edition of the Romanian Outsourcing Awards for Excellence 2015, together with the Who's Who in the outsourcing sector in Romania. As a valid follow-up of its previous Outsourcing Summit event organized this year, the first edition of the Romanian Outsourcing Awards for Excellence proved to be an elite event and a platform to recognize, reward and celebrate the success of the most prominent firms acting in the Outsourcing - BPO, ITO and SSC market in Romania, in the perspective of building a tradition and a long-term commitment to celebrate the performance in a fast-developing and challenging sector.

The event was supported by strategic partners Outsourcing Advisers, ABSL - The Association of Business Service Leaders in Romania, ANIS - Employers′ Association of the Software and Services Industry, gold partners Teamnet and Wipro, partners Accenture, Genesis, Genpact, JLL, WNS, the participation of CGS Romania and Colliers International and the support of APDETIC (The Association of Producers and Distributors for IT&C Equipments) and Cluj IT.


---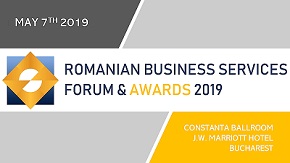 » Raiffeisen Bank Romania outsources onl...
» Oracle results pushed down by a strong...
» World-class HR organizations now spend...
» Apostoleanu, Oracle: Human talent, mos...
» Sergiu Negut, on the stage of People i...
» Microsoft and Oracle to interconnect M...
» The importance of training in developi...
» ANIS: Romanian IT market annual revenu...
» Healthcare IT outsourcing market is ex...
» Bosch Service Solutions to grow 20% Ti...

My HR Lab: Research of suitable candidates and giving feedback to rejected ones, the biggest challenge in HR

During June 2019, My HR Lab company run an online (social media platforms) survey "Challenges of the recruitment process" which enrolled over 100 professionals working in HR and recruitment in Romania.
Read Full article »
The local market needs more added-value and complex projects to be developed by the companies

The statement has been uttered within this year's Romanian Outsourcing and Shared Services Summit by Catalina Dodu, Country Manager at Atos, pointing to the local enablers that could enhance the innovation and
Read Full article »
The office market at a glance: The round for tenants is on

Data provided by CBRE show that the office spaces segment will continue to grow rapidly in 2019, and 15 new projects covering 304.000 sqm will be delivered. According to the real estate consultancy agency, curr
Read Full article »
People Empowering Business Forum 2019 to take place on October, 30 at Bucharest

Latest trends like demographic upheaval, globalization, digital technology, and changing social values and worker expectations, are disrupting business models and radically changing the workplace. These are req
Read Full article »
Addressing the mantra of cyber-security: Confidentiality, integrity and availability

The fast advancement of technology in all the aspects of everyday life, either personal or professional, and the emerging of AI (Artificial Intelligence) and ML (Machine Learning), not to mention cloud technolo
Read Full article »