---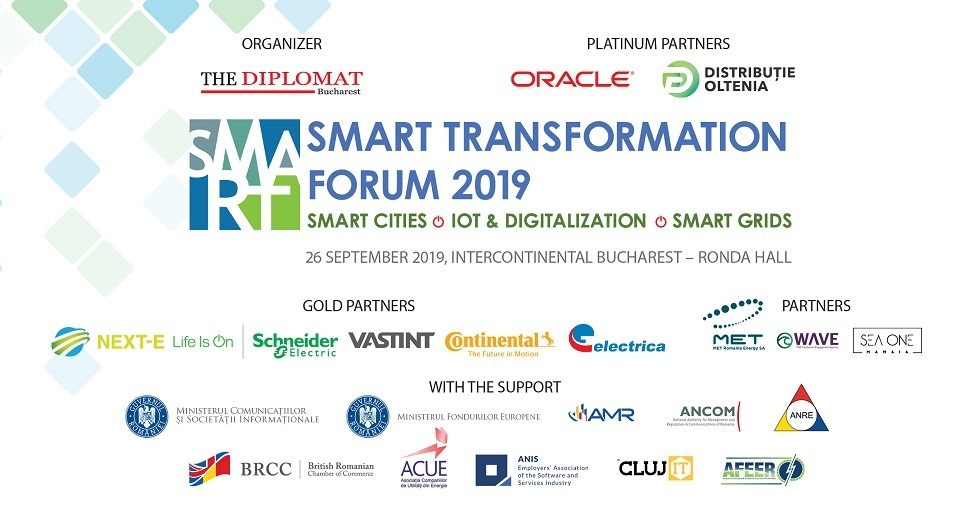 Leveraging on best practices from the already implemented projects, The Diplomat – Bucharest organizes the fourth edition of its national conference called Smart Transformation Forum to be held on 26 September 2019 in Bucharest, at InterContinental Bucharest – Ronda Hall, starting 8:30 AM.
The Smart City sector is becoming one of the hottest topics, with nearly every major technology provider looking to jump into the connected ecosystem. Major metropolitan areas are expected to implement technologies that could bring urban living into the digital age. Successful and sustainable Smart Cities are not built solely upon the technology mainframe, but on the support and engagement of the broader community, by prioritizing and practicing people-centered urban design and providing multi-modal pathways for all citizens to join-in and meaningfully participate in the co-creation of their Smart City.
By meaningfully and continuously engaging the public in all Smart City planning processes, city leadership, urban & private sector partners are ensuring the systems, projects & plans they create are grounded in real community needs. It's time for our community to start turning towards smart technologies – Smart energy, Smart mobility, Smart infrastructure and Smart public services, as the core of our Smart City initiative.
The forum will bring together over 100 participants to include Romanian Government, markets regulators and local authority representatives, Smart technologies and equipment suppliers, energy companies, community services providers for public utilities, waste management and transportation.
The participants are encouraged to share knowledge, discuss the challenges they might had encountered and stimulate creative thinking about the concept of Smart Cities.
EVENT AGENDA
09:00 – 10:00 PANEL I: THE STATE OF SMART FROM DISCRETE FLAGSHIP PROJECTS TO DEVISING A SMART CITY MASTER PLAN
The roadmap to Smart City for central and local government • Coordination, funding and regulation of Smart City initiatives • Pushing Smart City agendas through tech partnerships • The political and legal consequences of smart cities
10:00 – 10:15 Coffee break
10:15 – 11:45 PANEL II: DEFINING THE SMART CITY
The internet of things: most sophisticated and useful piece of equipment • 5G technology matters • Cybersecurity – a multifaceted problem • Integrating blockchain into Smart Cities – smart contracts, billing, transactions and facility management • Energy Efficiency Innovations Changing the Game • Energy production, distributed energy and predictive maintenance with IoT • Electric vehicle infrastructure expansion
11:45 – 12:00 Coffee break
12:00 – 13:15 PANEL III: BUILDING A BEST-IN-CLASS CUSTOMER EXPERIENCE
The value of end-to-end customer experience • Creating an integrated, interactive, uniform environment • Tapping into the collective intelligence of citizens • City-wide data management system and making sense of the data collected • Improving the customer experience with IoT
13:15 – 14:15 Networking Lunch
This year's edition welcomes a strong panel of key leaders of strategic industries, such as:
Carmen Adamescu Partener EY, Leading IT Advisory Practice & IT Risk Assurance
Ionut-Valeriu Andrei, Secretar de stat, Ministerul Comunicatiilor si Societatii Informationale
Zoltan Nagy-Bege, Vicepresedinte ANRE
Doina Vornicu, COO & Board Member, CEZ Romania
Razvan Copoiu, Vice President, Industry BU South & East Europe, Schneider Electric
Antoniu Panait, Managing Director, Vastint
Alexandru Valeriu Binig Director, Regulatory and Antitrust, Enel
Radu Puchiu, Open Government Partnership
George Didoiu, Director Tenant Services, Colliers International
Dan Zaharia, Senior Consultant, Extind Management
Alexandru Tulai, VicePresident Cluj IT
Find on the event's official site of Smart Transformation Forum 2019 the full details regarding the Agenda, Panel and registration forms.
---
Trending Now